Pink is the color of the month. Today, we begin the month-long awareness campaign against the most dreaded disease Breast Cancer. Every, the family would have heard of one or the other case of cancer being detected. Gone are the days when cancer was a one-off amongst thousands and lakhs of women. Today, India is witnessing more number of women being detected with Breast Cancer every year. In fact, across the world Breast Cancer has become leading cancer in women. The report says that it accounts for 14% of new cancer cases detected every year. For every 2 women newly diagnosed with breast cancer, one woman dies of it in India. Aren't these statistics alarming? Does this worry you also? It indeed worries me.
According to a statistical report on breast cancer in India, breast cancer accounts for approximately 25% to 32% of all female cancers in cities like Mumbai, Delhi, Bengaluru, Bhopal, Kolkata, Chennai, and Ahmedabad. This implies, practically, one-fourth of all female cancer cases are breast cancers. Why are women dying every year due to breast cancer in spite of the medical advancement? Have you ever wondered why? Well, lack of awareness amongst women is the looming concern.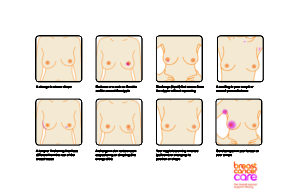 Studies indicate that delay in early diagnosis will kill over 76,000 women by the year 2020. In order to prevent ourselves, our sisters, mothers, relatives, and friends from getting into the clutches of cancer it's imperative that we take steps today. It's a threat to one in every 28 women. And that women can be you also. It is one of the most commonly diagnosed types of cancer among women in India, claimed 70,218 lives in 2012, the study published in the Journal of Business Research showed, stated a report in Business Standard
Also, Read- Why Women Should Protect Themselves Against Critical Illness
With the onset of this month-long campaign, I take an oath to spread awareness amongst as many women as possible. In this entire month, I would like to strongly emphasis on the various facts associated with Breast Cancer and how important it is to follow a monthly routine of 5 mins to self-exam yourself to avoid unwanted surprises in future. Awareness is the key to protect our community. It's important to know that the average age of diagnosis has moved from the late fifties to the early thirties, and in some cases even in the twenties. You would be surprised to know that one in 400 men also suffers from Breast Cancer.
Stay tuned for more on Breast Cancer Awareness activities for the entire month!