"Even though you can't see them or hear them at all, a person's a person…no matter how small."
Abortion is a very heartless word. There are so many videos doing rounds on the web showcasing what exactly happens when a baby is aborted. The video shows us how the limbs and other parts of the babies body are broken and removed. There might be pictorial representations on this, however, we really don't know what does through inside a mother's womb. It gives me cold shivers while writing this all. I have tried to put my thoughts together to bring out to the world what goes on inside and how does the to be aborted or an aborted baby feels.
Dear Mum,
I heard you for the first time. Until early today you were not aware of my existence. Upon doctors declaration of your pregnancy, I could see you were elated. Wanted to jump and dance and tell it to the world that I am here in your tummy. I felt happy within. Happy about being welcomed way before my actual arrival. But, I could hear some unhappy conversation between you and papa, I see you crying. I could feel your pain within. Some time back you were so happy and now suddenly I feel the gut-wrenching pain you are going through. What is wrong with you mum. Are you not happy anymore? Please tell me, mum. I want to be loved and the tears I feel you have on your eyes are not happy tears. I kept asking my mum and hearing the heated conversation between my to be parents. I could not make out what they were talking but, I know it's all about me. Well, with tears dropping from my eyes I went off to sleep. Tomorrow when I wake up I am sure everything will be fine and I will find my happy go lucky mum back.
It's a new morning and I am loving my new home. I am beginning to settle in here so well. It's so cosy and safe out here. I have started rolling as well in the ocean of liquid in my mommies tummy. At times this goes in my mouth too. I am sure god would have thought how I can stop this from going into my nose. Oh boy! How would it feel once I am out in the world my mum lives? How it would feel to be wrapped around in her arms and to cherish the love she will shower on me? Well, coming back to what I am today, I am beginning to feel hungry. Hope my mum eats something tasty today. Woah !! Is it some kind of telepathy I have with my mum, the moment I thought of food, this creamy white liquid started pouring in. What is this? I am sure going to ask my mum once I am out to give this creamy liquid to me often.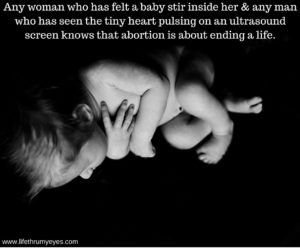 My days here are going quite well, I am enjoying each passing day and learning new things about the temporary house that I am in. Last night I saw a dream, a beautiful one. I saw myself being born. I am a beautiful pink bundle of joy. My mum and dad were smiling looking at each other. Dad seemed to me messaging all his friend and announcing my arrival. Ahh, there was a tear in my mum's eye. She could not believe that I am in her arms. She called me "Shona". Well, I am wondering if this is going to be my name for life. It's good but too filmy, don't you think so? I got to tell you my mum is the first and most beautiful another living human being I have seen. She has beautiful brown eyes. I believe I have taken after her and going to be as pretty as she is when I grow old. It was a beautiful dream left me in anticipation of my life in near future. I am 4 weeks old now and in 8 more months, I will be with you mum.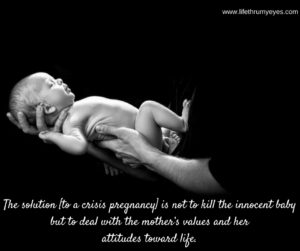 I woke up suddenly with loud sounds around me, I think my parents have had an argument. My mum is crying and father is looking grim and irritated with something. I am very scared at the moment. After a while of silence, I see myself surrounded by the weird smell of medicine and ointments. I feel my parents have come see a doctor. An unknown fear is clutching my heart. My mum wasn't due for a doctor's visit today since last week only we had come to see the doctor and everything was declared to be fine after a brief check-up. Suddenly I feel darkness within, this was when my mum was wheeled into the operation theatre. Why was she here now, I am not due for 8 months? She is lying down on the table. I feel something horrible is going to happen today. While I was restless within I suddenly felt a rod like thing coming towards me, my cosy home felt scary to me. I started screaming and calling my mother frantically for her to save me. Maa, maa, maa aaa please help me. Save me Maa. After a while I could not take any more, I was in bad pain. One of my hand was being separated from my body, then other, my feet was pulled hard, other was scraped. I can't begin to explain the terror within, it just didn't stop. I knew I was dying and there would be no colourful dreams of future with my mum, no one will hold me in her arms, no one will put me to sleep, I won't ever get to taste the creamy white liquid which I so loved. I would never hear my mother, her soothing voice. I tried to be with you Maa, why did you not save me. I had so many plans to have an awesome life with you, all are shattered now. I wanted to be your daughter. I could no longer breathe because I was dead. I am happy for you mum, you won't have to be unhappy for whatever was your reason to let me go. Stay happy always mum. I wish to be your child in some life.
I am now being carried above with a beautiful fairy angel, mum she looks like you. She has kept me safe in the crook of her arms. I believe up in heaven she will be the one who will take care of me. I, now wait for us to be united in your world in my next birth (do choose to keep then) or my world up here. Be happy and be safe. Mum, I really do not know your reason to let me go but, whatever it was please stay away from this monster called abortion. It's very painful mum. I love you so much that I would never want you to go through this ever again.
Love,Your Aborted Baby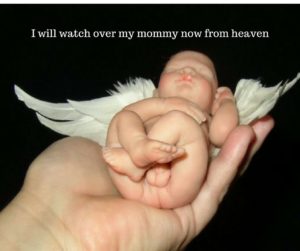 Please note that this post is not intended to offend any parents/mothers/fathers feelings. It is not meant to hurt anyone of you, who may have gone through this phase of abortion (by choice or by chance) These are strictly my opinion and my version of what an aborted child might feel about its end even before he got the chance to live.
I wonder how many men and women, as the parents have been through this phase of an unplanned pregnancy. Couples do have a choice not to have unprotected sex in the first place, especially unmarried ones who are left with no choice but abortion due to society pressures. We must remember that with our rights and our choices come responsibilities and we can't take someone else's rights away to avoid our responsibilities. The decision of abortion which is taken due to medical reasons(retarded growth of the fetus), the sensitive issue of rape are still understood, but I really can't come to terms with an abortion which is caused due to unprotected sex. If every childless woman and man could picture to themselves how much serious effort nature makes for the welfare and well-being of the little one , and how it resents after all the preparation, being forcefully removed, they would surely hesitate before they interfere with the progress of the great and godly miracle. All these little one asks is to be given a chance.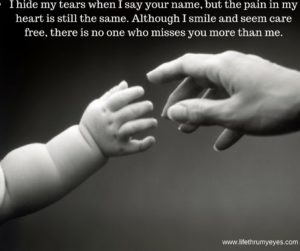 I am not here to talk in favour or against abortion. I understand it is something which you do not do for fun. It is a thing which you do as per the situations in your life, unavoidable circumstances or for that matter, someone pushes you to do it. Maybe for few couples/women, this is the best decision that they could take. I do realise its very easy to say you are against something when you have no idea/experience about the whole situation. Also, I understand that I would not be able to decide upon my decision until I face a similar situation. This is one subject on which a person can have a lot of individual opinions and can go on and on but, I am more interested in knowing what you feel about this sensitive situation faced by women first and their families next. How can we avoid abortion and avoid nature being tampered again and again? Can we not have option to abortion? May be adoption!
Do give it a thought. Would be keen to know your opinion in the comments below. Take care!