Womb is the god's art studio
You may wonder how this strange autobiography came into existence. Because it begins and ends even before the birth of the autobiographer. This little unborn autobiographer tells you how he came into being and shares his experience from the cosy home of his, "mothers womb"I was surrounded by no cooks, nor was I guarded by brave policemen, but I was guarded by lots of liquid around me. I heard the doctor telling my mum that it's amniotic fluid in which I am floating and it will protect me from all the shocks. So you see this liquid seems to be a good shock absorber. To begin with how I came into this place.Here is my story of my pre-birth life.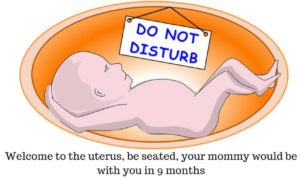 Until a week back I was into this narrow Fallopian tube, but suddenly the place started feeling too cramped up for my rapid growth and I landed into a place called Uterus as mentioned by this white-jacketed man to my mommy. This new place which seemed like a cavity is too huge and I feel I will be able to comfortably live in this place. It felt as if this new place was anticipating my arrival and in its readiness to receive me, it had prepared to a cordial reception for my long stay in here. A general housecleaning had been undertaken. As there seemed to be no other place, I could not resist the temptation to settle in there so I made up my mind and settled down at this convenient location and decided to stay there for as long as I wanted (with a strong hope that I might soon be ready to enter the real world where my mum lives).
As soon as I was settled in this new home of mine with my entire household I decided to make my position strong so that I don't get washed by the uterine fluids, as I was in no way prepared to live in your world. I needed this safety jacket provided by my mum's body to make myself strong enough to face the outer world. Soon I started to notice my surrounding and saw myself surrounded by a lot of liquid, the walls of my new home were made up of elastic tissues who welcomed me graciously and met with all my needs. I really wonder if there is such a remarkable dwelling anywhere outside in the other world. This places seems promising and will grow as per my growth and will provide me space enough to feel secure and protected. By now I had placenta well in place which took care of its protege, ME- providing with all the necessary food and oxygen. Placenta ensured that the food that reached me was safe and free of germs so that I can grow happily and become a healthy child. Soon I noticed that the placenta which provided me necessary nutrition and served as a filter came to me as one artery and two veins which later joined to form Umbilical chord. This chord is supposed to send blood back and forth between me and my mommy. I tell you this body is unique which is carrying me, it has such wonderful mechanism I can't begin to tell you. I will for sure remember to thank my mum for taking such good care of me inside.
Well going back to my home now, during my exploration process I also heard my poor mother who often felt sick during morning hours. She would sit in front of the toilet seat for a long time anticipating the urge to throw up. It's called morning sickness they say. I feel so sorry for my mum, due to me she is suffering so much. Being well aware of the sufferings she will have to undergo during this phase, she chose to keep me, to cherish me, nourish me in spite of hardships. Only a mum can do this. My salute to you mum.
It's been almost a forth-night since my arrival in here. I have been well settled and well taken care of by now. I am the tiniest little human being anyone would have ever seen. Not larger than the pupil of my mother's eye. Being so tiny and disfigured I feel I will come last if I ever participated in a beauty contest. However, lack of good looks did not worry me much at this point in time. I am content with the thought that every new development is taking me one step ahead towards evolution. I am still a soft mass and there is no bone in me to keep me straight but still, I am waiting in anticipation to see my body become little tight and take some shape. Slowly and steadily my wait proved to be fruitful. Soon my body started taking shape and I could notice the formation of a skull, rib cage, and much more. However, I will continue to grow even after my entry in your world.
I am sure you might think I ought to hurry up with my work and not bring an unfinished product on your planet. But trust me it's in favour of my mum and me that I finish my further development after I enter your real world. Reason being the path which I will take to come out would be narrow and might hurt my mum and me more if I grow more before birth. So you see, nature has a role to play there as well. Now with all the growth around I have started to feel like a small tree with so many trunks and branches coming out. In spite of my minuteness, I was full of life as any living creature of your world.
One beautiful morning when I was wondering how I will look like down the line few days, few months to few years, suddenly the creator of all sent orders to have my body divided into 3 main chambers. Upper body, consisted of my head, below that was the key to my life, heart and other respiratory organ and below that was an abdominal cavity which is home to most of the organs of digestion. It's strange coincidence that the body-to-be so beautiful after birth was almost offensive looking in the first few weeks of my life. I am sure you would agree why I hide until the nine months of my beautification are over. Slowly I started seeing the world around me as my eyes started to develop so I kick in excitement now and my mum feels me moving all around with excitement. Slowly all the organs started to develop around me, I had a small heart just the size of my fists. By now I had small arms and legs. I felt as if it was my budding season and springtime of my embryonic life. My mum by now had entered the second trimester of her carrying me. I was now a happy owner of all the features of a man.
All this while when I was busy settling inside my mommy, almost 3 months had passed. Whoa time passes too soon if you have a good atmosphere. Since my arrival at the uterus, I have been anxious to find if I have any other occupant along with me. Maybe a twin brother or a twin sister would have been great to have with me to play in free time. At times I do feel as if someone is leaning on me. However, now that I am big enough to move I am sure my mum will have to be disappointed this time as I shall be born alone. They say it is lucky to be born as twins and I did wish to have another baby coming with me, you see a play companion sort of.
You know with each passing day I have realised that the most important thing buried in my birth seems to be my future sex, so many times I have felt my mother's inquisitiveness to know if I am a girl or a boy. Every time an elderly granny visits my mum or see her tummy she starts guessing that I would be a boy since the tummy has grown so round and big or I would be a girl since my mother is glowing. I don't understand if these granny type aunties have x-ray eyes which can see through my mum. Well, I feel that I should answer this question as well, while I have undertaken to tell the story of my birth before I am born. I am happy to be a boy because your world seems to be revolving around manhood. Women are often considered to be an incident, no matter how important part their existence plays in our life. When I am born and grow to become a man I will ensure that I do not press my point on anyone from opposite sex.
I was already 3 months old and was 6 months away from being in my mum's arms. Slowly all other parts of my body started to develop well. I was now grown to be called a Fetus, but somehow I started to like my initial name Embryo because it sounded so loving and petite. However, I have realised that I will have to live with this name until I am born and my parents give me a well thought beautiful name. Next few months passed being devoted to my perfection, adjustment, beautification and also to the adornment of my body. Mother nature takes its own pre-decided time of 9 months to carefully prepare me for the outer world, It is busy pushing in here, pulling out there, adding little beautifying touches everywhere. Providing protective layers around my body. Every organ in my body has a separate bag which protects it from any harm. I am really amazed at mother nature as it has made a human body with such precision. No one part in my body is there without any use. Skin, hair, nails all these are for my protection. There seems to be a unique coordination between each part of my body, some parts stop to grow so that the other can grow and form symmetry. For instance, my head was asked to stop growing after the 5th month so that my neck could grow.I am over 6 months now and have real nails developed over my finger tips. With the last trimester of my mum approaching, it would be devoted to the completion of the various external organs.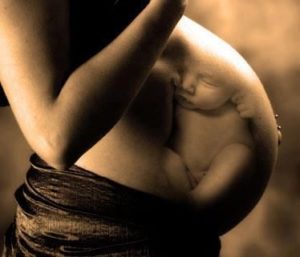 My mum's peace of mind and body is often disturbed now as I move so frantically in my mumma's tummy to find the most comfortable position for my growing body. She is often hungry as my needs are increasing due to which she eats every now and then, just to ensure that I am not hungry. Such is her love that even before my birth she can't bear the thought of me going hungry. My movements are so quick that my mum can even feel them, hear them and in fact also see them since she is a lean woman with thin abdominal lining. She already seems to be most beautiful women and my first love too. Well, ever there is hardly any thought or feeling crossing the mind and soul of my mother which I haven't felt. She always tries to be happy and avoids being sad, as she feels that it will affect me. However, she does not know that whatever her thoughts are it won't affect the great work going within.
I try to share her periods of rest and work as much as I can but at times I am unable to move as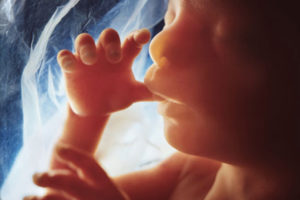 fast as she moves, therefore my continued activity disturbs her a lot even after she is asleep. Otherwise, we live in perfect harmony. Well going back to my development, the respiratory system has begun its functioning too, my heart has started pumping and every time my mum visits the doctor he tries to hear my heart beat and it says lub dub lub dub. In last 2 months since my fingers came, I am very amused with the way they open and close. I spend my happy hours sucking on them. It has become a fad I believe and my mommy for sure will hate seeing my swollen right thumb. I shall try hard not to put my thumb in my mouth once I am born. All other senses of my body are working very well. Soon I will be able to differentiate between cow's milk and my mother's milk. Also, I will be able to differentiate between my father and that attending doctor just by the smell of him.
When I began to communicate with my mother my vocal chords were not ready, so our communication was largely dependent on our soul. Since the glorious day, we have needed no sound to understand each other. As soon as she closes her eyes, I can make her think what I wish her to think. Her souls hear me speak, though I am absolutely silent.
The days are nearing when my life in this beautiful world will close, to open the next in your world which is full of joys and sorrows, hopes and realities. I start to look at the outside world from my mental eyes. I see my mother who is waiting eagerly to hold me in her arms, how her eyes are full of hopes and dreams. Dreams of my future and dreams of pending motherhood. I see my grandparents who are weaving dreams to spend their old age playing with me, living their own childhood once more along with me. They often say that old age and childhood go hand in hand and are not much different from each other.
So today my mum is due for her monthly doctor's visit as she is due anytime soon, and I will come crying loudly in this world. I am told that an infant is safe as long as it can make itself heard. Nobody alive can resist the earnest cry of a child. I am sure I will become quite powerful through the effective use of my sound apparatus (Cry). I am also told that I can obtain almost anything I want if I know how to cry. But my grandmother is often heard telling my mum that if I cry then let me cry, it will help my lungs become powerful. But I am delighted to hear that my mother would not let me cry unnecessarily and would respond to each cry of mine on time and that she does not want me to develop a cry habit. But I am still going to use this power of my voice box on few members of my family.
Nine busy months are over now. Tomorrow I am to be born. The short space of time between this insignificant today and that great tomorrow is holding perhaps the most memorable event in my coming life-my birth to your world. Tomorrow would be the day which will become the most crucial day of my mother's life, MY BIRTH. She will become the mother. Tomorrow I will be the only proper and interesting topic of all my family members. Today only my mother takes me seriously and considers me in her actions and tomorrow I will rule every member of the household. I will leave my home within my mother's body which nature had prepared for me and will enter the house of my parents which they are right now preparing for my arrival.
You may be wondering how I will come in your world. Don't worry when I am ready to depart I will give an order to my temporary household and mother nature will start preparing itself to let me move out of my mother's tummy. I feel very guilty with the thought that during this process of my entry in your world, my mother will have to undergo fierce pain. I have heard the doctor say that 1st sign of my coming would be the fact that the fluid in which I have been living will start flowing and this will tell doctors to prepare my mother for the D-day. I shall make a special effort to make the act of my coming as easy for my mother as it is possible. Evidently, I have very little to say in this matter, as I am to be the only object of birth- The Passenger. I will try my best to assist nature whenever the opportunity presents itself and will try to make it little easy for my mother. I shall like to see my parents pleased and gratified for their efforts towards my coming.
I wonder whether they will be pleased and approve my gender. I think my mum would be pleased to find me as a boy as little garments she so lovingly prepared is adorned with little blue ribbons. Blue is supposed to be a boy colour, I don't know why. I shall ask her as soon as I can. Before tomorrow comes, I have a last look at myself and my surroundings. I am mighty pleased to see the creative work of mother nature and how perfectly it's completed. All organs are well in place and ready to take their work for the lifetime. My ears are desperately waiting to hear the first words of my mother and father. I am now ready to take up life and to battle with its problems as they may present themselves.
Oh my god what are these sudden movements that I can feel within, my heart beat has grown faster. My father seems to be acting funny and is running helter-skelter. My mum is screaming, she is in a bad pain, her water has burst. Orders for my removal have gone out. I hurry to close my story. And here ends the first chapter of my life and the story of my birth.
I promise to express my experience as a newborn soon with my new "Autobiography of a newborn child".
Till then please accept my love for all the mother's in the world. Hats off to you for being a mother.