While most of us are busy preparing for the upcoming Diwali celebrations and festivity at home, kids are too anticipating the much-needed break and enjoyment their way. Diwali being one of the major Indian festivals, preparations usually start way in advance. From de-cluttering the house to bringing in new things to re-decorate. The zest & enthusiasm can be seen in every household. It's a festival for lights, fun, and togetherness. For young ones, it's about new clothes, fireworks, and sweets which make it the most awaited festival of the year.
Diwali is such a festival which is enjoyed by each one of them from young ones to elders in the house. However, with little precaution the festival can be enjoyed more. Unfortunately lot of times fun and enjoyments get hampered due to the injuries caused by fireworks. Each year brings in fresh cases involving gruesome and serious injuries caused by fireworks. And, unfortunately, most of these cases involve young kids. Such accidents with kids usually happen when they are allowed to be around fireworks unattended. Parents need to take some precautions to avoid such tragedies. Parents must never allow young children to handle fireworks without close adult supervision.
Here are some tips to keep your kid safe while bursting crackers on Diwali this season!
Proper clothing: Ensure proper clothing for your kids. Festivals are the time when everybody likes to flaunt fancy clothes, but make sure that your kids change clothes before lighting the crackers. Dress your kids in body fitting clothes so that there are fewer chances of cloth catching fire from a diya or a cracker. Avoid flowing clothes as they catch fire very quickly.
Keep a bucket of water handy: As they say, prevention is always better than cure. So it's best to stay prepared for any unwanted mishaps. In the case of fire, you can simply pour water and douse the fire. It's also a good option to put the burnt crackers in the bucket full of water since you never know how the leftover gunpowder in burnt crackers may catch fire again or may react differently to environmental activities. Keeping a pair or two of blanket ready is also a good option to use in an emergency.
Keep a watch on your kids: Do not leave your kids unattended. Crackers, candles, matchsticks are dangerous and can harm your child. Kids should be allowed to light crackers under adult supervision only. With very young kids, hold their hand while they light the "Phuljari". Do not leave kids with firecrackers without any adult around.
Lighting: Diwali being the festival of light we are bound to light up the entire house with electric lights and diya's. However, do not light diya's on the passageways in the house or near any curtains. Buy good quality lighting equipment's so as to avoid any short circuits and other electrical accidents. Make sure you install the lights out of kids reach.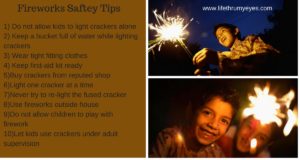 Buy licensed crackers: To avoid unwanted accidents it's suggested that you buy crackers from a reputed and a known(licensed) shop. This applies for both food as well as crackers. Kids should be able to associate Diwali with not just crackers but food, festivity, lighting and get together.
Lighting up the used cracker: Discourage your kids from trying to light up the fused cracker. If in one shot it does not function properly. It would be better to leave that aside, better to put it in a bucket full of water. Crackers have a tendency to burst surprisingly and causing injury.
Good shoes: Make sure your kid is wearing proper footwear with a strong grip and no flowing laces or ornaments attached to it. Do not allow kids to be bare footed while lighting up the crackers. Better would be to make them wear fully covered shoe to avoid even a small piece of cracker hitting anywhere on their feet.
Inspect your surroundings: Check the area and surrounding where you are planning to light firecrackers. Ensure there is no inflammable materials nearby. Make sure the place is free from obstructions and vehicles. Ideally, it's preferable if there is plenty of air and enough room to run after lighting the crackers.
Firecracker handling: Keep firecrackers safe and away from kids. Do not give them all the firecrackers at one go. Also, discourage them from keeping the crackers in their pockets.Do not allow crackers to be used anywhere in the house. Make a strict rule that crackers can be lit outside the house only in a designated place. Inside the house cylinder, upholstery and other things can pose danger.
First Aid Kit: Take all the precautionary measures to avoid an unwanted situation. Keep a first-aid kit ready while your family and kids are enjoying lighting up crackers. In the case of minor injury, it can be treated immediately at home with the first aid kit.
Fire extinguisher: Where there is a fire there should be a fire extinguisher. Keep a fire extinguisher in close proximity to the area where you are lighting crackers. You could also keep a bucket full of water and sand to tackle an unexpected fire.
Discarding used fireworks: Be it a Phuljari or a flower pot (Anar) or a chakri, suggest you dispose it off immediately once the fire dies down. Specially Phuljari's as they are extremely hot even after the fire dies off and can cause painful injury if by chance it touches your child or you. You can either put it in a bucket full of water or put sand on them in order to put out its heat.
Do not light too many crackers at one time: Firecrackers are unpredictable and can ,go in a different direction when lit. Encourage your kid to light only one cracker at a time and enjoy it to the fullest before moving on to other.
Less exposure to the loud noise and pollution: Exposure to loud noise and smoke is not good for young children since they are in developing stage and such exposure can casue harm to them. A lot of kids these days are allergic to smoke and pollution which leads to bronchial asthama. So be careful with such kids. It's best to let your child enjoy for some time and then take them inside the house for indoor activities.
Sweets and Delicacies: If the sweets are preapred by you at home then nothing like it. In case you are getting it from outside be careful and buy from only reputed and well-known shops. Also, buy as much as required and do not store too much since the sweets usually loose it's freshness in 24 hours. Do not buy them from random shops as this could cause harm to your family.
Diwali is a festival of lights and it should be a source of joy and happiness for everyone in the family including kids. These basic but important steps can ensure that this festival of lights only adds to your happiness and does not bring darkness in your lives.