Don't prepare the path for the child, prepare the child for the path
Isn't it true?  Well, being a mum of two I am a firm believer of this saying.  We shouldn't be helping the child through the path or in fact not making the path for the child but preparing the child for the path. Be it difficult. Most may say that this preparation begins when the child steps out, goes to school, meets new people and learns new things. Well, I would beg to defer on this as I believe preparation begins right after birth and the maximum learning happens in the first 5 years of the child's life.
I recently got an innovative and fun invitation from Vivero International pre-school and child care center to attend a beautifully designed Movie Night for the kids of the school that was also open for outsiders. As soon as we entered the campus it was buzzing with lots of excitement and last-minute touch-ups for the gang of kids to be welcomed. This was the first time that we were going to experience a movie night at school and my daughter was super excited as she never knew school can bring on so much fun as well.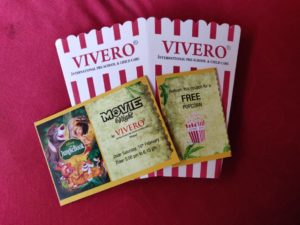 This movie night organized by Vivero International pre-school and childcare was part of the learning and teaching philosophy followed by them. For the first time, I came to know about this unique approach that is called Reggio Emilia approach.  Basically, the Reggio Emilia approach is an educational philosophy focused on early education. In more simple terms it means that this philosophy uses self-directed and experiential learning as a curriculum. Vivero International pre-school and childcare focuses on a child learning from experiences and his surroundings. They have a beautifully designed curriculum and experiential learning, getting to know about life skills are a major part of the studies at school and child care.
I was given a detailed tour of the school along with a thorough briefing on the school's pattern of teaching and how they have included an understanding of general principles in the curriculum. The core behind the concept of Vivero International School is the belief that children form their own personality during the early developmental years and they can shine in life with on-ground experiences more that textual learnings. Children here are given the opportunity to express themselves in various forms of languages painting, dancing, coloring, drama and much more in everyday life.
Movie night at Vivero International pre-school and child care has been a super hit for quite some time. And on popular demand of parents and kids, this movie night was organized across all the centers at one time in one unified manner. Ira was quite excited to watch the movie as it's her all-time favorite The Jungle Book. We all have grown up hearing the popular Mowgli song and thus it was equally exciting for me to watch the movie along with my squealing daughter.
In order to yet again teach kids while having fun watching a movie. The ground floor of the school was converted into a movie theatre. There were food counters, pretend play corner set up for kids, with a beautiful aroma of butter and popcorn in the air. The most interesting and something that we loved was the Vivero bank counter and Vivero Box office counters. To make the kids experience the concept of money, buying a ticket, buying popcorn and then watching a movie was beautifully created. Ira was supposed to take currency from the bank and then move on to the next counter of Vivero Box office from where she could collect tickets and a complimentary coupon for Popcorns. She was beyond excited as she had never experienced something like this and simply loved the whole process. Popcorn vending machine being her favorite. 😊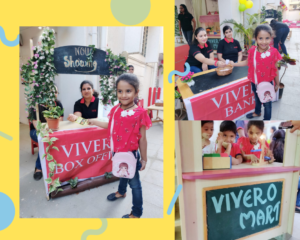 The usual play area at school was converted into the most comfortable seating area for kids to watch the movie along with parents, siblings, and friends. Soft and comfortable mattress along with pillows were symmetrically decorated and a huge screen was put in front for the kids to put their feet straight and enjoy the movie. It was extremely thoughtful of the school to have mattress and pillows to make the whole movie watching comfortable and relaxing for the families and kids. Just like a theatre kid got up during the interval time to get the loved tub of popcorn for themselves. Keeping in mind the requirement of all the school had made an amazing arrangement. Their beverages and other food items as well to make the whole experience worth for everyone present.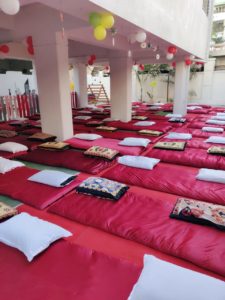 To make it further memorable there was a beautifully done up photo booth and Ira and I loved getting clicked over there. The pretend and play corner was also helped in keeping younger kids engaged and entertained. The movie night was not over just after watching the movie. Keeping the theme in mind the school had organized lovely mask making and sandwich making activities upstairs.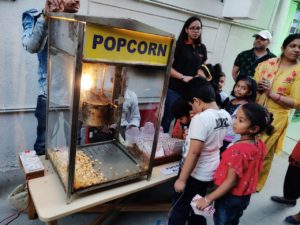 Movie night was one such activity that was designed and executed keeping the learning intact along with fun. Children are knowledge bearer hence at Vivero International pre-school and child care they are encouraged to share their thoughts and ideas about everything they could meet or do during the day. So more than being the target of instructions, children are made to be an active participant in the learning process. Wherein the teachers are considered to be the co-learners and collaborators and not just an instructor.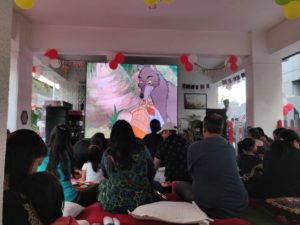 I was quite inspired and in awe of the way Vivero International pre-school and child care has taken care of designing its curriculum keeping kids at the center and holistic learning as the end goal. They have various other programs that help in inculcating values about civic management, Digital citizenship, performing arts, culinary activities and much more. Yet another feather in its hat is the fact that the school is India's 1st school who has got curriculum designed by Apple. Teacher gets training from apple certified trainers on regular basis to keep them abreast with the latest in technology and curriculum.
While the movie night was amazing and we had a great time, I was also quite happy to have taken a detailed tour of the campus. The interiors are done up beautifully keeping kids in mind. In every corner, I could feel that fact that they believe in a natural environment. From coconut shells being used for décor to the twigs of tree used to hand as wall décor. I loved it all.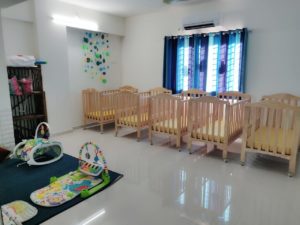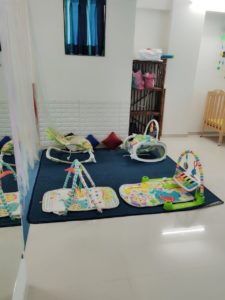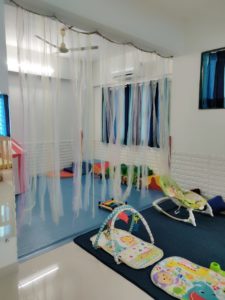 Considering the fact that they are so delicate shoes are supposed to be removed outside the room. There are play mats to keep the infants/babies engaged and happy. There are huge wooden sleep cots to ensure proper and safe sleep time for babies. The room is decorated in an utmost beautiful manner. I wish I had this option when I was looking for a good child care center for my daughter some 5 years back. Parents of such young kids can just relax after leaving their kids at school.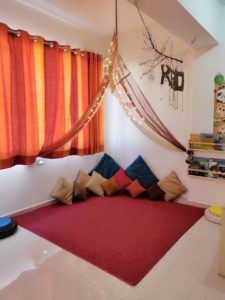 This is a beautifully done up corner for reading. The books are stashed neatly on the rack and kids can just pick the ones they like, sit in the corner and get lost in the world of their favorite characters.
They have separate activity area as well for kids to have some fun time with teachers.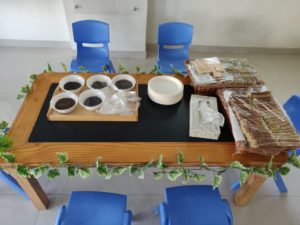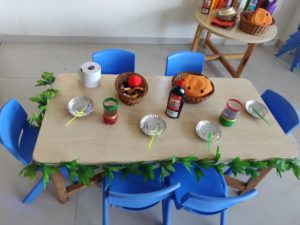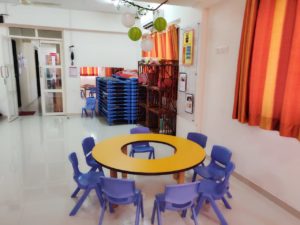 As I said the interiors are very well thought and designed keeping the kids in mind. While taking this wonderful tour of the school I came across this beautiful wall which has got some beautiful pictures. Lovely emotions captured in these pictures are displayed in beautiful frames.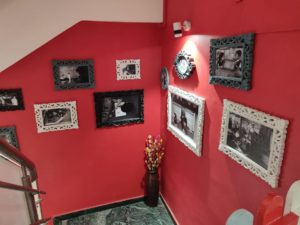 Other USP's of the school include the fact that every morning when the kids are dropped at school they compulsorily have to go through a regular drill. The temperature of the child gets monitored along with hands getting sanitized with sanitizer before entering the building.  Aside from this, I loved the soft foam walls in the play area, infant room, and other places as well. They have wall protector made of foam to avoid kids getting hurt from the walls. All of this especially customized and made as per the requirements of kids at Vivero International pre-school and childcare.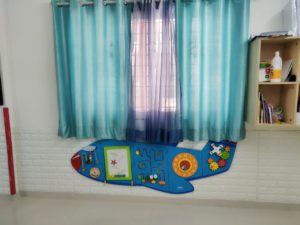 When kids are young, they are like learning sponges. Every new experience they come across, every word they learn, every behavior they adopt, is an investment in a more fruitful future. Early childhood education is all about honing and molding the holistic child, that will eventually form the basis of their lifelong journey. I am glad that there are schools like Vivero that are working towards building and supporting a holistic child.
We had a great time at Vivero International pre-school and child care and how they emphasize hands-on discovery learning that allows the child to use all their senses and all their languages to learn. If you haven't visited the Vivero school then go to the nearest campus and experience for yourself the beauty of education and development they are offering to kids and parents.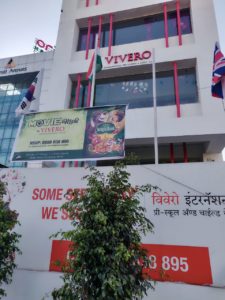 Picture courtesy- Lifethrumyeyes
For more on parenting stay tuned with us on Lifethrumyeyes here!
Follow us on Facebook | Instagram | Twitter
Copyright Notice- Unauthorized use and/or duplication of this material without express and written permission from this site's author (owner) is strictly prohibited. Excerpts and links may be used, provided that full and clear credit is given to Rakhi Parsai (Lifethrumyeyes) with appropriate and specific direction to the original content.