It never ceases to surprise me how cute babies manage to look with dewy eyes, chubby cheeks and sweet little diapers on. The diapers are usually constant companion of your child for several months together after the birth. Considering the fact that babies have extremely fragile skin we need to ensure that the baby is safe and away from any skin or overall health problems in the early days. The outer layer of babies' skin isn't well formed in the early days and loses moisture more quickly in comparison to adult's skin. External bodies and irritants have higher chances of getting penetrated into the skin and cause harm to the babies that result in Diaper Rash.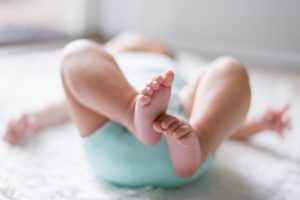 Most of the times diaper rash is one of the common problems faced by most mums. In spite of the cloth variety or any other disposable diaper, rashes are inevitable. Diaper rash mostly affects the newborn or toddlers since they have sensitive and allergy prone skin. However, diaper rashes cause pain and extreme trouble to the baby, causing him to be irritated and cranky. Diaper rashes are usually red and inflamed patches that appear on the buttocks, the folds of the thighs and their genitals. Most of the times skin problems are not extremely harmful and might go away on their own. The best way to ease burning sensation caused by the rash is to applying a soothing diaper rash cream. A diaper rash cream is a magical formula designed to sooth the red and irritated skin and forms a protective layer on it.
While it is important for the mothers to ensure that their little one's skin is clean, dry and moisturized, it is also important to use a chemical and steroid free and natural diaper rash cream that is soothing for their skin. Recently I came across a wonderful steroid free diaper rash cream by Piramal Healthcare, Caladryl. Let deep dive and see why its one of the best creams to address the rash problems of your baby.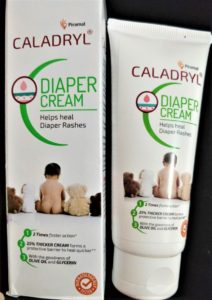 I recently happened to be taking care of my newborn niece right after her birth. It's been a pure delight taking care of all her needs. However, the nightmare began when she developed rashes on her nappy area and once pleasant and happy baby became cranky and irritating. That is when this magical diaper rash cream came to our rescue. Here's my detailed review of the Caladryl Diaper Rash Cream.
Packaging- The cream comes in a white tube with all the information detailed out properly on the tube. From ingredients, key features, usage, warning, and pricing too. It comes in a small thick paper carton with the same set of information printed on it. It's a sturdy box and can be easily carried in the diaper bag. In case you just want to keep the tube in the bag it's all the easier and sleek to fit in any corner of the bag. The tube has a flip open cap which is convenient to use and close once done.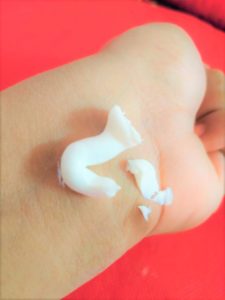 Key Features- One of the key features of the cream is that it's chemical free and works 2 times faster in comparison to other creams available in the market. Another thing that really works well for the baby is that the cream is 25% thicker and forms a protective barrier to heal quicker. Since it is tested on sensitive skin and proven to be working well hence one can use this for babies with sensitive skin also. Last but not least it has olive oil and glycerin that further helps in healing the painful rashes of the baby.
Consistency- The cream is pearl white in color and has the very thick consistency to form a proper layer of the skin.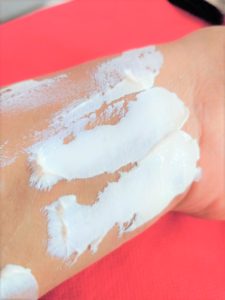 Fragrance- It has almost no to bare minimum kind of fragrance which is an added advantage as its better to use non-fragrant products for the babies.
Direction for use-Apply liberally on and around the diaper rash to form a thick layer. Also, repeated application 2-3 times a day or every time you change diaper helps in quick healing.
Price- INR 200 for 40gm pack
Also, Read- Amazing skincare products for your baby
Overall take- Overall, it's a very nice product with added benefits of olive oil and glycerin. I have used this on my niece and have myself witnessed the effect of it on the painful rashes. It's quite quick in action and works wonders. It spreads evenly on the skin and thick texture helps in sticking to the skin for a long time helping further in the healing process. The best way to obtain the ultimate benefit of Caladryl Diaper Rash Cream is to repeat its application every time you change baby's diaper. Just spreading an even layer of this rash cream all over baby's bottom builds a protective barrier to avoid abrasions with diaper cloth.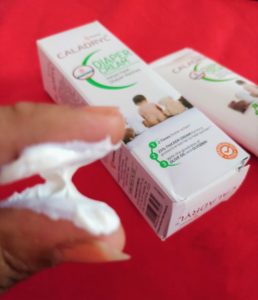 The healing power of nature is available now in the form of Caladryl Diaper Rash Cream. I would personally suggest that the best course to protect your infant against diaper rashes is to opt for a good quality diaper rash cream that is infused with nourishing ingredients like olive oil and Glycerine.  Pick a cream that is clinically-tested and free of harsh, synthetic chemicals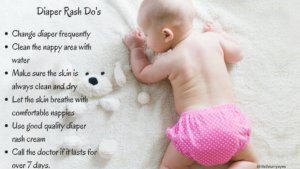 How has your diapering experience with your baby been so far? Do you have a tip that has worked brilliantly for you? Do share it with us in the comments below.
For more on motherhood, follow along with Rakhi on Facebook | Instagram | Twitter
Love Deeply. Give Freely. Laugh Often
Reach out to us on lifethrumyeyes11@gmail.com for collaborations and discussions. We are all ears!