Pregnancy is a time where a women's body undergo major changes and how quickly actually! It can be exciting as well as stressing for a mom. No other phase of our life we grow out of our clothes so drastically and rapidly- which often makes it difficult for our minds to keep up with our bodies. Breastfeeding is one such important phase of a women's life when she might go through various emotions. From feeling elated one moment to being miserable the next. This is the time when a mother needs to feel confident about her body
Women are usually made to feel uncomfortable while feeding in public, rather it's still a taboo in our country to feed in public. However, our culture is slowly helping us through this transition and we know that maternity clothes are there for us. Breastfeeding is no longer a hidden affair. No longer are you required to hide yourself while feeding your baby. No longer you are required to cover yourself from head to toe in an unfashionable manner. Time has come when you can step out wearing your confidence and feed your baby in public. Nursing clothes are making themselves known gradually and trust me it's like giving confidence and ease to mothers who are trying to juggle so much.
I am very happy to review a nursing dress by a 1st time mompreneur Sapna Krishnan, from Threads and Shuttles who has taken an oath to revolutionise the way breastfeeding moms wear their confidence and comfort on the go.
Read on for detailed review on the nursing dress that I have received from Threads & Shuttles.
Colour- The dress is a beautiful peacock blue colour which has got fine floral prints.
Fabric & Stitching- The fabric is cotton and amazing to touch. It's very soft on the skin and glides well on the body. In fact, the fabric is quite lightweight but feels like great quality. It would be great if we can have 2 lines of stitching as this is the phase when a particular cloth can fit well in some areas and stretch on others. Hence just to ensure that the stitch doesn't get stretched you can get an additional stitch if you want.
Style quotient– It's an amazing stylish nursing dress. It has a unique double layer fabric over the bust which allows for easy access yet remains stylish looking. You aren't wearing two full layers- just over the bust area. The opening is easy to manage, no strange bunchy fabric to pull around and try to find the opening, have there are 2 zippers on the sides of the bust which are covered by a layer of cloth which keeps the zip hidden. You just need to slide the zip opening up with one hand. The dress has a nice long length till knees has a great style about them. It can be worn just like a one piece or teamed up with a nice colourful legging. I love having this cute dress in my wardrobe and I'm sure it will get lots of use.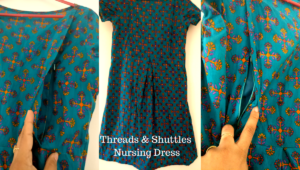 Fit- It fits very nicely and takes the shape of body which gives slim and beautiful look
Overall I'm impressed with the clothing and will definitely be putting more Threads & Shuttles items on my wish list for future buying if we get second time lucky. It's quite thrilling that mums can wear cute stylish clothing while providing their babies with wonderful mommy's milk. The brand also has a line of non-maternity clothing that looks wonderful as well.
Where to Shop: Threads & Shuttles also have Nursing Covers, Short & Long Nursing Kurtis, Short & Long Nursing Dresses and Short Tops. You can purchase these amazingly stylish Nursing Wear at Facebook
Price- INR 1300 + Shipping Extra
Disclosure- I was provided the dress by Threads & Shuttles, but all opinions are my own.
Growing curves do not need a revamped new wardrobe, just the right one! All it needs is flexible maternity clothing that adapts beautifully to a changing body.
There is nothing better than having the comfort of feeding your baby on demand. It isnt about being told that you need to do this but rather finding out what works best for you. It may involve investing in a carefully designed clothing that allows you to cover yourself in latests fashion or just wrap fashion around yourself. Its just about finding few tricks to cover up while nursing
Thanks for letting me share my fun find with you!
Wishing you happy days, easy nights and lots and lots of laughter.