Are you pregnant? Congratulations- I am sure now you would get busy in figuring out best of maternity fashion to wear for the next nine months. Especially from the second trimester onwards. Well given the way apparel industry has grown over the last few years there is no one who has to look frumpy anymore. There are perfect clothes for everyone, from size zero to plus sizes, from would be brides to mothers-to-be. Today being pregnant signifies that women can stay stylish, comfortable and still manage to look chic throughout the nine months of pregnancy.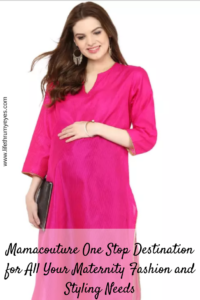 Maternity fashion has gained immense popularity due to the rise in a number of working females who look out for fashionable, classy yet comfortable maternity wears. Comfort in apparel is an obvious demand of pregnant women, especially as the terms progress, and this ease can be achieved through natural fibers like cotton. Most pregnant women today are no longer trying to hide or cover up their pregnancy; instead, they are choosing different varieties of garments that fit into their new shape
Mamacouture understanding the need of pregnant women for comfort, style, and fashion has come up with best of fabric line and designs for expecting mothers. From beautifully designed maternity wear consisting of skirts, pants, kurtas to amazingly gorgeous nursing wear, they have it all to suit the needs of all women. Few women like to dress in a mild way during pregnancy, few likes to show their bump off to the world and some like to hide it, pregnancy wear is available in different styles to suit all three expectations at Mamacouture.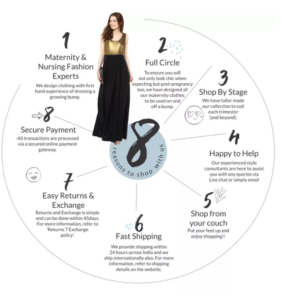 Pregnancy is no more a thing to hide. It's an experience that a woman likes to remember and cherish all their life. From the first symptom of pregnancy, till she delivers by the end of nine months, today's woman looks out for ways to flaunt her pregnancy and bump in the most stylish ways possible. It's like celebrating the life growing within a woman's body. With the growing number of millennial women conceiving the market for maternity fashion has flourished a lot.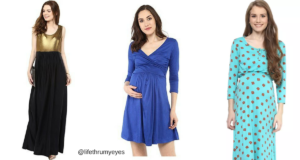 Need for Maternity wear
1)Change in size– With the months passing, especially in the second-trimester body changes in more than one ways. From the changes, it goes through within to the ones that become easily visible from outside. A woman goes through a lot and looks out for comfort in whatever she wears and, in her surroundings, too. That is when comfortable maternity wears come in handy.
2)Comfort- As mentioned due to the changes in the size of the body overall, especially on the tummy region, it becomes imperative for the pregnant mum to wear clothes that are made up of comfortable clothing and the ones that grow along with her belly.
3)Boost your confidence- Given the changes in the body a woman might feel low about her own looks and appearance. Pregnancy leads to various good and bad changes in a women's body and for her to feel confident maternity wear can play a huge role.
4)Style quotient- As it is known by all, pregnancy is no more a thing to hide anymore. It's a celebration and expression of feelings. About welcoming a new life. Thus, perfectly fitted and comfortable maternity wear can very well accentuate the style of today's pregnant women. Stylish and fashionable maternity wear is a great way to flaunt your bump and make beautiful memories.

Also, read- 11 magical tips to prepare your body for pregnancy
Aside from the beautiful phase of pregnancy, there is yet another phase that eagerly waits for a new mom- that is none other than Breastfeeding. Yes, it's a beginning of a new bond that forms between a mother and the baby and stays for the life. Today mothers are all the more aware of the benefits of breastfeeding and are open to feeding babies publicly. This need to feed the baby openly gave birth to the idea of maternity clothing and fashion.
Keeping this need in mind Mamacouture also launched some of the finest nursing clothing suiting the needs of women across groups.  Lifting the clothes in order to feed the baby can get sometimes difficult and cumbersome while handling the baby as well. The nursing clothes by Mamacouture are made in such a way that the mother doesn't get uncomfortable while feeding in public. They offer innovative nursing dresses with capes that helps in concealing the nursing access and also wearing fashion and style with confidence.
Also, read- Common pregnancy challenges and solutions for mums to be
The fabric used in these maternity clothing is soft, durable and can breathe easily. The body goes through various changes throughout the pregnancy and the curves get added with some extra pound or two. Thus, to meet this demand of growing body Mamacouture ensures and used fabric that stretches well and fits throughout pregnancy and beyond.
Every pregnant woman needs to feel as comfortable as possible. With growing belly and changes in body pregnancy at times gets difficult and overtly emotional. There are days when you will feel unwell, feel bloated and have swollen feet and hands. In such situations, you need to be as comfortable as possible and wear maternity clothing that allows you the movement and freedom of space. Finding the right maternity wear for this beautiful phase of your life can be a blessing for many.
Pregnancy is a phase when all women need to feel gorgeous as she is responsible for bringing a new life to this world. She needs to feel confident and happy about herself. It's a celebration. So, what better way then showing off to people and the world with smart, stylish and attractive maternity wear. If you are pregnant and wanting to add on to your grace and beauty, do check out the amazing collection offered by Mamacouture which a one-stop destination for all your maternity needs is.
Do share your pregnancy experiences with us in the comment section below.
Happy parenting!
For more on parenting read click here
Picture courtesy- Mamacouture Website and world wide web.
Follow us on Facebook | Instagram | Twitter
Copyright Notice- Unauthorized use and/or duplication of this material without express and written permission from this site's author (owner) is strictly prohibited. Excerpts and links may be used, provided that full and clear credit is given to Rakhi Parsai (Lifethrumyeyes) with appropriate and specific direction to the original content.
Love Deeply. Give Freely. Laugh Often
We strongly believe in women power and feature their mompreneurial and entrepreneurial journey. In case you are looking to get featured, write to us on lifethrumyeyes11@gmail.com