Aging is not an option, not for anyone. It is how gracefully we handle the process and how lucky we are, as the process handles us
Today, I turned a different age somewhere along the lines of the roaring fifties. I don't feel very old then what I was yesterday. I am humbled and happy by the life I've been privileged to live with, so many lessons and experiences. The ups and downs and everything good and bad between the two. I never thought of writing such a letter when I was 12 or for that matter when I was 20. But yes I did write down things that I wanted to do with my life. Looking back, I've done a good deal of those things and I'm grateful. When I was 12 I used to feel 20 would be right grown up age for me, when I turned 20 I thought 30 something would be right age for me and when I turned 30 something 50 seemed very old to me and so far away that I used to dread the thought. Maybe it is a thing to fear or just the thought that scares us; then again, maybe it isn't. You be that judge. But here is my letter to myself at 50 on aging gracefully.
On this day you have hit half century and have entered in second innings of your life. You are in between a strange group of people between middle age and elderly. You're not super young, but you're not old either. You've come a very long way from something over thirty. Congratulations!
A lot has happened in all these 20 years, and I strongly feel that in many ways you and I are a lot alike, but I bet our daily lives look different. Right now I am sure you have a satisfaction deep down in your soul of having a house of your own and I am sure you would have decorated it the way you wanted for which you used to fight with your husband. Maybe you finally got an amazing sofa set in the living room with a recliner in one corner to support your aging bones. A good bookshelf filled with books from ground till ceiling.Hope you've managed to get that dream kitchen of yours that you always wanted with cutlery oh so trendy. I am sure you would have bought a house that has a garden area knowing your affection for gardening. In fact, I bet you may have forgotten what it's like to be me (you? us? whatever.) at age 33.
Forty is the old age of youth. fifty is the youth of old age- Aging Gracefully
You were always a very mature person but I am all the more certain that you have grown to understand that life is precious and fragile. You loved living on the edge but still handled it with care so that nothing and no one close to you suffers at all. I'm certain that you have accomplished way more than you imagined but your underlying aim behind all that accomplishment was to make a difference in the world. I think you have done that well. I am also very happy that you took one strong decision very early in your career that has helped you make a mark for yourself in the society. You are settled today in your then new found desire to write.Your writing, your website, your fame, your leading pushes you out of bed every morning after so much time. I'm certain that you must have smiled and laughed at your successes, celebrated your achievements and accomplishments, cried at your pain and failures, re-evaluated your progress after failure, and even worried about one thing or another at some point. But I am sure you do realize that every failure and experience good bad is always a blessing in disguise even if it comes after a very long time. It gives me immense pleasure to see that you have done well for yourself in life and you are on your route to aging gracefully with tons of experiences and amazing memories. With your heart humbled and head held high I can see you feeling fulfilled and satisfied. It's totally human to go through difficult times and crushing moments, what matters the most if staying strong and using negativities to push yourself forward towards the path to where you are now. I couldn't be more proud of what you have accomplished in your life.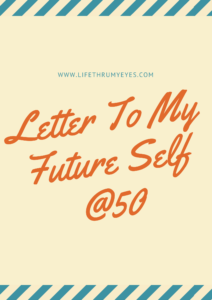 Today you are blessed with two wonderful kids who are out in the world to follow their mums footsteps and create a place for themselves. I am very proud to see that Ishi has taken after you and went ahead to build her career in writing and journalism. Ishmit the studious boy went ahead to fulfill his nani's dream and is on his way to finish his medicine studies. You have done really well for both your kids. They are an example of fine balance between family, work and play. Over a period of time to Ishi seems to have graduated to be more patient and calm. Back then during her early childhood and school days she used to be always edgy and impatient just like you. You always took life in a stride. Your writings continues to inspire many people out there. You always wanted to move people with your words and writings and trust me you have done a good job. People use to not like it that you spoke your mind, told the truth, stood by your beliefs, and had no worries about the opinions of other people. But most have gotten over that now. You've learned the longer you stick with something, the more respect you gain.
Very early in your life you have learnt to accept situations and circumstances. Acceptance towards everything— the good and the bad from difficult to easy, from sad news to happy. You have accepted and recognized your own strengths. I am happy with the fact that you have stopped beating yourself up and stopped thinking that you are not smart or there is some fault in you. With age you have become more graceful. You used to be a perfectionist in your own way. You are still the same. I remember you used to love having coffee with a book in hand or rather I must say kindle in hand. It was in early thirties when you transformed yourself into one tech savvy mom. For you reading was always your first love and kindle revolutionized the way you consumed books. I am hoping that you are still the same, but I am sure Kindle has revolutionized the way it lets people read now. Do you have the app which reads the book for you? Well that was your distant dream back then which I think Amazon recently made a reality. Your sudden decision to quit your work was best I must say. As today you know what it was like to create your own path forward with not an inkling of an idea what you were doing. You remember that it took you some time to get to where you are. And you're not afraid to share all the personal horror stories because you're happy to help even if you're the example. All in all you have come a far way and stay the way you are. Be humble, be kind and be forgiving like you have always been.
In my parting words to you I would like to say that I am very happy to see you where you are right now. Very bold yet so humble. So free yet striving to do better in life. You have come a long way and you will continue to do good for yourself and people around you. You are not just growing old, you are growing older and wiser and you are just aging gracefully. You are improving with each passing day, adding a new feather in your flock with small accomplishments every day. And I am crazy proud of everything that you have done and you are doing.
I am taking part in The Write Tribe Festival Of Words #6 for which we were supposed to write an letter. What better than writing to my own 50 yr old self.
Stay tuned for more from this festival of words
Also, read-