She is an inspiration in two words. She is a woman of substance, a free spirited woman who lives her life without regrets and always in the look of encouraging other women to experience life to the fullest. Senior Social Media Strategists during the weekdays and a avid biker on weekends. She loves to let her hair loose, wind in her hair, worries left behind and her "dhanno" (bike) in her hands roaring high. Meet Urvashi Patole, a renowned name in the biking community of India. 28 years old Urvashi has traveled over 400,000 kilometers in a span of 12 years that she has been riding. She started motorcycling when she was 14 years old. For her, biking isn't just a passion or hobby, it's also her profession.
Today, she has the 'Biker of India' award, Limca Book of Records certification, dirt race championship wins and much more, just because she did not let fear overcome and just sit back. Urvashi Patole with her story hopes to encourage women across the globe. Urvashi Patole is also a founder of the "Bikerni" which was started in the year 2011, a motorcycle association for women that aims to spearhead women empowerment through the medium of motorcycles and encourage women to go on adventures they would have never thought to go on before.
Read more about Urvashi Patole's empowering journey here.

First things first, tell us a little bit about your family and where you live?
I am from 150+ years of Army background, my father is a Maratha and a retired. Army Officer and my mother is from Mizoram currently settled in Pune. I live in Pune too with my husband who is also a biker.

When and how did you start RIDING?
I was 14 when I started motorcycling. It was on my cousin's Bajaj Pulsar around 15 years ago. Though the first time I rode an actual two wheeler was when I was 9, I sneaked a ride on my washerman's Luna. What a fall I had as I didn't know how to stop it.

Where did the inspiration for your venture come from?
It was the purpose of not letting any other girl faced the troubles I had faced to get into the world of motorcycling. I desired to create an equal platform for women motorcyclists all over India and give them the chance to go on adventures. So in Jan 2011, I kick-started The Bikerni and now we have more than 1200 members and 17 chapters.

What does your morning routine look like? What time do you get up? What's the first thing you do in the morning?
I wake up by 6.30 am now that I am married. First things first, is to greet my father-in-law and offer him tea. While I tidy up the house, the cook and the maid walk in and I deliver the instructions of the day to them and maybe make tiffin for my husband and sister-in-law if he is leaving very early for work.

Tell us about your work and what you do professionally, the other side of Urvashi Patole the Bikerni?
I work as a Social Media Lead at FirstCry.com and WorldOfMoms.com and have been here for the past three years. I love the world of online communications and marketing immensely and it gives me great joy to challenge myself to achieve something better.

Balance—we can't do this interview and not talk about it! Mostly because I'm desperate to know all of your secrets. How do you make it work? Basically, how do you balance personal and work life?
My passion is motorcycling and my work is Social Media and I balance it out by switching off my mind as and when required. If it's motorcycling I am doing then I keep work as secondary and when work needs to be in focus, I keep my motorcycles aside. I have been doing so for the past 10 years quite successfully.

How do you make room for personal time for yourself? When you do get down time, what do you do to relax, refresh and/or get inspired?
For a motorcyclist like I am, the open road is what inspires us, relaxes us and is part of our personal time. Rather than sitting at home on a weekend, I would prefer exploring new places, experiencing new things and meeting different place as I ride to new and amazing destinations.

One thing you do for yourself to unwind from it all?
Eat…Sleep….Ride… Repeat… This is mantra many fellow bikers follow and truly it helps us unwind from the stress of work and life and in these moments we truly feel one with nature and feel like living this way forever.

One bit of advice you give to a fellow women bikers trying to make it all work? Any recommendations for women who dream about being the biker but just can't get started?
Start riding passionately in your area, go for a lot of rides with a true purpose of biking and not for publicity sakes. Meet people and talk to them about how motorcycling makes you feel and last, of all join 'The Bikerni, we will help you join in or form club chapters in your respective cities. Take to the road and have a deaf ear for all those who tell you that you are too delicate for a motorcycle. If you want to ride a motorcycle, you can! And no one should be telling you that it's just not possible.

You are a proud founder of Bikerni. Tell us something about the group and when and how did you start the group? Where do you see the group going in coming future?

The Bikerni was formed on 15 Jan 2011 and started out in Pune with around 14 members from Mumbai, Hyderabad, Delhi, Chennai, and Hubli. It was the purpose of empowering women through the field of motorcycles and take women on adventures and journeys they would have never had the chance of going on in those days. We wanted to create an equal platform and gain respect for women on motorcycles across the nations. Basically someday to have a huge number of women riding motorcycles and breaking stereotypes. Discovering themselves through the kind of refreshing perspective riding a motorcycle gives you and basically collecting all the women with the same passion under a single association so that they can support, encourage and ride with each other.

What is your most memorable ride/event you did with your club?

The first ride we did to Khardung La in Sept 2011, 11 women from different cities, different ages and all walks of life. We were support systems for each other and reaching the top in a time when women bikers were laughed at and looked down upon even by fellow bikers was a big achievement. Recently all of us rode down to Hyderabad to celebrate International Female Ride Day together.

We have heard that your husband is a biker too and your mother-in-law also has keen interests in biking. Do you guys often go on a ride and does he support in all your riding decisions?What is your mother-in-laws take on this?

My husband and I go for motorcycle rides very often. My in-laws, as well as my parents, have always taken pride and been very supportive about my trips and adventures. My mother-in-law loves to ride motorcycles as well and is a very dynamic woman indeed.

We have read a lot about you through newspapers, social media, electronic media and much more. You have won many accolades as well. How do you still maintain a very low profile and be grounded to reality?

Biking liberates me. I have saved women from molestation and eve-teasing on a number of occasions. If people are breaking signals even trucks, I park my motorcycle right across the road till the light turns green. If I stay a part of the crowd which ignores and looks away, how would I live in peace with myself? So every-day I fight with the standard processes of life, making it bigger through The Bikerni as more and more get empowered and ride. It makes me feel happy knowing that I have more women standing and riding strong out there. I look out for every member of mine and treat them like family, they find my easily approachable which I am thankful for. For my efforts with The Bikerni, I've been blessed to receive accolades but I will never forget my roots and what efforts were taken to be where I am today.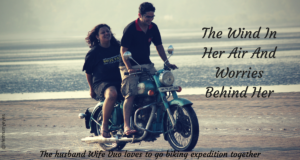 I have seen you on Stree Shakti show with Divya Dutta. Would you like to share something about it?

Women getting into what had been perceived as traditionally male dominated areas is required in the present scenario.
Sometimes, when I head out on a group ride, the guys in the group get too aggressive to show that they ride well. I stay calm for the first patch or two and then I throttle it out and leave the guys far behind. Especially on off roads and curvy roads. These guys then avoid calling me for their next group ride, when it was them who invoked my aggression in the first place and then couldn't catch up. This is exactly why I prefer riding alone or with fellow female bikers because we tend to ride in harmony and have no need whatsoever to prove anything to each other. There have been questions raised that why are you being a feminist? Why a separate term for a female biker 'The Bikerni'. They argue that in the end, men or women, all are bikers, isn't it?
I tell them that before the term 'Bikerni' was created or before our association was kick-started, were women bikers in India given a respectable platform or recognized? Since the founding of the all women association, recognition has come to women bikers and they are acknowledged as fellow bikers on the highway of adventure. So yes, we created a separate platform for women bikers, which ironically has given us more of an equal standing in a male dominate biker community than we ever received before. Through 'The Bikerni' we also motivate girls to stand up for themselves and believe in themselves thoroughly.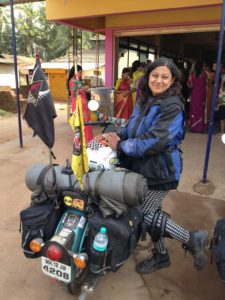 Which is the longest road trip you've done on the bike?

Well, I've traveled all across India and road-trips have spanned from a week to more than a month. My favorite route is the riding on the southern and eastern coastal routes for sure.

Which is your favorite biking memory?

There are so many memories to choose from. I think my favorite memory is when I rode to Leh Ladakh with 10 other women and we truly realized what bonding with fellow women bikers felt like.

Over the years, with Bikerni as well, you must have faced a lot of resistance. How does Urvashi Patole fight back?

When I founded The Bikerni, it was with the purpose of creating an equal platform for women motorcyclists all over India. We've had our ups and downs and people telling us that this wasn't our place to be in. Well I told them, we're never in one place anyway, we keep traveling. :p

In your opinion, where do you think the road is heading for female riders in India? What can we expect to see in this field in the next few years? Are more and more women encouraged to start riding? Share any thoughts you might have on this!

Many of the members have traveled solo or in groups to Mana Pass, Marisemik La, covered Kanyakumari to Khardung La, toured across the Golden Quadrilateral, are stunters, dirt racers and track racers. We have so many women who ride to so many amazing places that it's hard to keep a track. We are rising and growing in numbers and soon we will have our own solid place in the world of motorcycle and women empowerment.
Urvashi Patole and I have known each other for past 3 years as colleagues and gradually moved towards becoming best friends. She is one gem of a person and a wonderful soul whose heart bleeds on others suffering around her. She has been a rock in my life helping me tide through various challenges. In hindi" Yaaron ki Yaar hai Urvashi Patole"
A beautiful quote by Urvashi Patole as a parting piece of wisdom.
"The woods are lovely, dark and deep. But, I have promises to keep, and miles to go before I sleep." (Robert Frost)
I am taking part in The Write Tribe Festival Of Words #6 for which we were supposed to feature a person or hosts a guest post. What better than featuring a person who inspires me every day and who has inspired thousands of women across the globe. My best friend Urvashi Patole
Stay tuned for last posts on festival of words tomorrow.
Also, read-