A child may not know what direction he is going but he knows he is safe as he is attached to you
Recently we were blessed with a child second time around. More than my first pregnancy I cherished the second one as I knew this was the last time, I would deliver a baby and be a mother yet again. I wanted to live in every moment and just enjoy the feeling. Well, as they say when you are enjoying something time just flies. My 9 months came to an end and I no longer could feel the baby move within the womb as I had this bundle of joy in my hands to cherish. Soon I started missing the baby movements within me and missed carrying the baby in the womb. It's a special feeling when you have the baby within you, you are carrying him everywhere with you and he is part of every breath that you take. And this was the time I decided to carry my baby and babywearing was the best option I came across. Here's a glimpse of my babywearing journey with Soul Slings so far, from choosing the right baby carrier, balancing the work while wearing the baby and how I explored many other benefits of wearing my son all the time.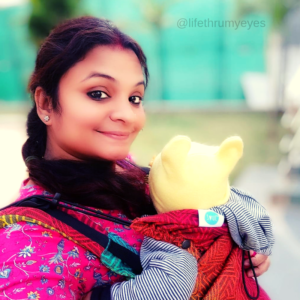 Choosing the right baby carrier for babywearing
Babywearing is nothing but a way of carrying your baby or a toddler in a carrier. For time immemorial mothers have been carrying their baby and due to the advancement of technology and other products to carry the baby around babywearing had taken a back seat. However, for a few years now babywearing has again come on front foot and quite a lot of traditional and modern mothers can be seen wearing the baby and balancing life beautifully.
Here are a few points to consider while choosing a baby carrier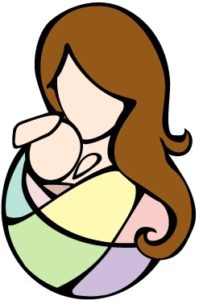 Since I suffer from back pain issues, I was looking for a carrier that had heavily padded straps and sturdy fabric that distributes the weight evenly. In case you are a mum who is looking to carry the baby do consider this point as many women face back pain issues at some of the other points.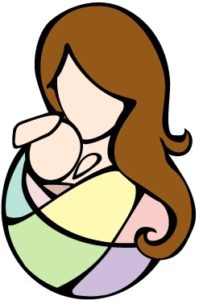 Since the baby is supposed to stay snuggled up with your chest or back it's important that he/she is comfortable in the carrier. While choosing a carrier do ensure that the carrier is made from soft, organic fabric and doesn't have a plastic-y feel to it. Slipping your baby in and out of the carrier should be easy and swift. While searching for best of option for us I also came to know that the baby's knees should be above the level of his buttocks (known as M position or frog position) when facing in. This is utmost comfortable for them, I can vouch for it now. 😊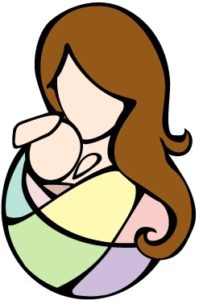 Go for the baby carrier that can be washed quickly in a machine as they tend to get dirty frequently.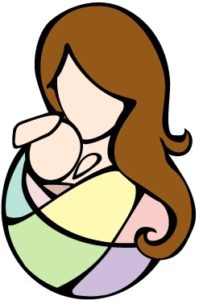 Considering the tropical climate in India, choose a carrier that is made of light fabric.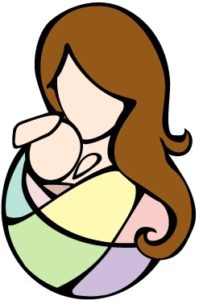 There are various types of carriers available like Wraps, Ring Slings, Pouch Slings, Meh Dais, or Buckle/Soft Structured Carriers. You could choose one as per your lifestyle and way of wearing. Regardless of the which type of wrap, sling or carrier you choose, it needs to be convenient and easy to use.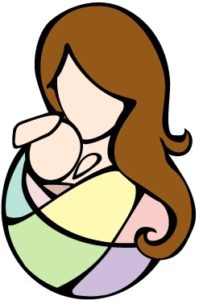 In case you are looking to carry your baby until toddler hood, in that case, go for carriers that can suit the requirement from newborn to toddlers.
The most precious thing you ever get to wear is your baby
Well, these were the few points that we considered while deciding upon the best-suited carrier for our son. And we got all our answers in Soul Slings Rainbow Maze Baby Carrier.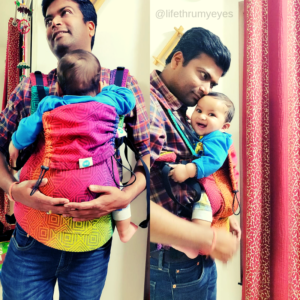 We got this wonderful opportunity by Soul Slings India to use and honestly review this beautiful Rainbow Maze: Aseem A. The team at Soul gave me the opportunity to choose any of the beautiful designs of Assem A. Since I am a stickler for colours so I chose Rainbow Maze baby carrier and in a few days' time I got this lovely carrier wonderfully packed in a pouch bag.
Its listed price on the site is INR 5750
You can read up on this particular carrier and more features here
Packaging- It came in a cloth bag made of natural fibre along with a matching pouch. All of it was safely packed in a cardboard box. The packaging was so compact I couldn't believe this huge carrier can fit into such a small box. But yes, it was just amazing. It shows that these carriers can be carried anywhere and everywhere along with you. Best companion for your travels.
Fabric- The carrier is made of 100% Jacquard woven cotton. The cloth is baby skin friendly and doesn't heat up as well with a rise in the temperature. I guess my son sleeps all the more comfortably while in the carrier as the cloth takes the shape of the baby and make him comfortable.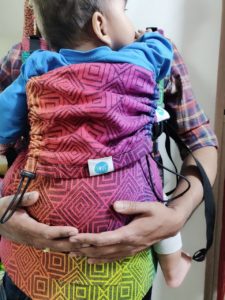 Weight management- It's a true Rockstar when it comes to weight management. The carrier is made in such a way that it evenly divides the weight not causing pressure in any one particular part of the body. In fact, this carrier is my true companion during my evening walks to reduce the post-partum weight. I am happily able to carry my son and walk as well without causing any pain to my back.
Look and feel- It's a beautiful carrier full of colours. Quite appealing to the eyes as well. It's easy to carry along anywhere. Especially now that we have a 6-year-old super active daughter, we keep this carrier handy so that both the kids can be managed easily. It can be used to carry both front and back. We are yet to explore the back option, soon I shall try that as well once my son is able to hold his body weight all by himself.
Babywearing is like wearing a hug from your child
We have been using the carrier since the time my son was 2 months old and till date when he is almost 6 months old. So far, we have loved how easy our life has become with this carrier. We have noticed he loves to sleep for a longer duration when carried along with us. His sleep is more peaceful and he is more content once he wakes up. This is why I feel that the carrier gives him the feeling of being in the womb still 😊 My life has become simpler now.
Being a work from home mom I have to manage both home and two kids with no additional support. Thus, I strongly rely on this carrier as it has helped me to work easily at home and even step out and do my work without disturbing his sleep cycle. Since Aseem A Rainbow maze has such beautiful colors I recently decided to pair it with matching clothes of mine and flaunt my style. Well, I must say baby carriers are an essential parenting tool and jazzing it up a little bit makes it more interesting.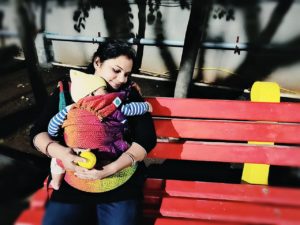 I am truly blessed to have started this babywearing journey with Soul Slings and have developed my faith in the power it provides to a woman. It has given me a sense of independence and allows me to indulge in regular chores while keeping my son close to my heart and hold my daughter freely. Due to babywearing, my daily walks have regularized a lot- it is the first step to get myself fit and retain pre-pregnancy weight. Our family daily routines now don't need adjusting just because I am a second-time mum. Babywearing has helped me develop a sense of control and self-confidence about my parenting abilities.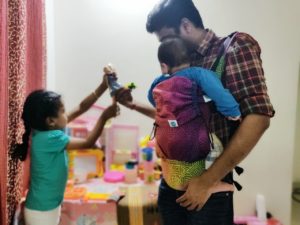 Both my kids are content now as I can hold my son close to me and have my hands free to play with my daughter, to hold her hands when she wants, to even help her play in the park. Carrying the baby also helps in healthy child development along with strengthening the parent-child bond. Having this ability to hold and bond with my son while still getting things done almost makes a great baby carrier a must-have piece of baby gear.
Aseem means limitless and in the true sense, they are beyond limits and Soul Slings have come up with this revolutionary carrier for parents of today. Since we were looking to begin our babywearing journey, Soul Slings gave this lovely product to us for free in exchange for an honest review. All the opinions in the post are mine basis the experience we have had in all these months.
If you are a brand and would like to see your products reviewed, please send an email on lifethrumyeyes11@gmail.com or you can also connect with me by clicking on any of these on  Facebook | Twitter | Instagram.
Picture courtesy- Lifethrumyeyes
For more on parenting stay tuned with us on Lifethrumyeyes here!
Copyright Notice- Unauthorized use and/or duplication of this material without express and written permission from this site's author (owner) is strictly prohibited. Excerpts and links may be used, provided that full and clear credit is given to Rakhi Parsai (Lifethrumyeyes) with appropriate and specific direction to the original content.