A daughter is the happy memories of the past, the joyful moments of the present, the hope and promise of the future.
I have cherished watching you grow in the initial 2 years of your life. You are a quick learner and seem to be poised for big things in life.One part of my heart does not want you to grow up and leave my lap, and one part of my heart wants to see who you will become few years down the line.. How will you look, how will you behave..and how will you be with me. Will you let your mum fuss over you and pamper you always?
Everyone says that your child grows up quickly. "Enjoy it," mums with teenagers tell me. "It goes by so fast," they say. I know. How can I not know this? My baby girl seems older than her 26 months. She talks now. She pretends to feed her stuffed animals, dolls and then pushes them around in her pram. In these moments, I burst with pride, but with tears in the corners of my eyes. It is going by too fast.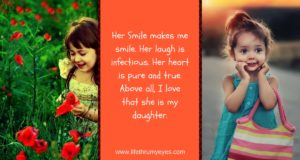 With the thought of you growing up so quickly my eyes grew blurry and words just popped into my head. Words that every parent, every adult, every human think throughout their lives. " I wish time would just slow down"
I wish time would just slow down. We've all heard that "time flies when you're having fun." And it's true, of course. But you know what? Time also flies when you're in a hurry. As parents, we do our best to plan for memorable moments. To create and capture the perfect photo opportunity. We watch as the baby fat fades and the school years pass, and we want to make it all count. Every second. Every moment.
Parenthood is a packed calendar where we don't have time for anything but tending to the needs of our kids. Planning for their present and future.But I feel life is going to happen, regardless of our best-laid plans. And the most magical of moments are rarely the ones we have scheduled. And these moments, these spontaneous and beautiful memories, may happen when our cameras aren't ready. They happen to me right before I take my daughter to her daycare, or when I am running late and the lunches aren't packed. Time just flies and so much to capture in the album called memory.
I have already started missing her  infancy, so priceless and so tiny, which provided these beautiful moments of connection — her skin on my skin, the way I could simply sing a lullaby and her entire little body would calm down. Those late-night feedings where I told myself, "Don't forget this, Rakhi. Don't forget this," and I'd breathe my Ira's scent in and make mental notes of one of the most pleasurable experiences of my existence.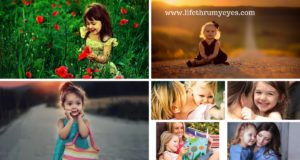 I'm grateful that babyhood can sometimes make minutes seem like hours and hours feel like weeks, and suddenly I wish there were ways to slow down the clock even more. I already dread the day when I look back at my daughter's early childhood photos wistfully. We always spend too much of the present anxious to reach the future, and when we get there, what do we do? We wonder where the time went.
In times of sickness or ill mood, I could still prop her head in the crook of my neck and reassure her through the heat of my body and the tone of my song that all was right with the world. Soon she will outgrow my lap and won't fit in the corner of my neck to peacefully sleep on her mum's shoulder. I miss her already.
These are the moments that reinforce the incredible privilege I've been given to raise this little human child. And I know those tender moments of motherhood are not all lost. In the meantime, while my baby girl is busy growing up and weaving dreams of a beautiful future, I just want relish in the unplanned magic that is my child's everyday life.