I still remember the time from my childhood when I suffered quite a lot from dental caries. Now that I am a parent myself, I take utmost care of my kids and their dental hygiene. For me, my children's well-being is the biggest concern and their oral hygiene is an important part of their overall health. The major care of your child's teeth and gums begins with you. As a parent, only you can set them on the right path for a lifetime of excellent oral hygiene. Establishing good dental health habits early on will help encourage lifelong patterns and well-being.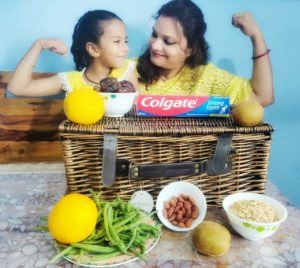 Recently, I learnt of a dental camp organized by Colgate, in Bangalore, and I decided to drop-in with my daughter. After a quick and free dental check-up, we learnt of some surprising research findings, here are some of them: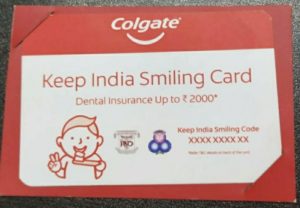 Indians are majorly affected by dental issues, tooth decay, periodontal problems and other fatal diseases. Also, other government estimates state that more than 70% of school children are suffering from dental problems. A lack of awareness is the biggest cause of the widespread prevalence of practices that are detrimental to oral health.
Here's the most shocking fact: 80% of parents in Bangalore, alone, are unaware of their child's cavities!
Colagte's awareness initiative also went a step further by educating us with preventive measures to keep cavities and dental problems at bay. Inculcating healthy oral hygiene habits is essential to strong dental health, and it's never too early to include them in your kids' routines too. Here are some tips we've adapted to: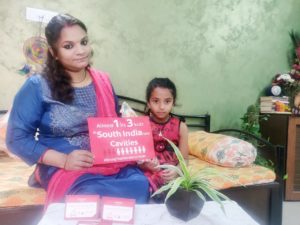 1) Brushing twice a day, with a strong toothpaste that contains a good amount of fluoride.
2) Paying equal attention to gum health, through improved brushing techniques.
3) Flossing every day.
4) A wholesome diet, rich in calcium, proteins, and essential nutrients.
5) Frequent dentist visits.
Apart from this, the team at the camp was kind enough to share with us 5 dental cards, to distribute among friends and family, to get a free dental check-up done.
To further add on to our experience, a few days after the camp, we were sent a thoughtfully curated hamper by Colgate, with all calcium-rich products to maintain good health and most importantly, healthy teeth. From foods like muesli, almonds, dates, French beans, Oranges, Kiwi to the newly launched, Colgate Strong Teeth, the basket had it all.
I also received a video from Colgate, that demonstrated how the Colgate Strong Teeth works. Colgate strong teeth with Amino Shakti gives 4X strengthening power which helps add natural calcium to the teeth through remineralization process and makes them strong from within. Colgate for healthy teeth all the way!
I can see a positive change in my daughter since the time we have visited dental camp as she is proactively taking efforts to ensure her teeth and the overall body remains healthy. From brushing twice a day, to eating healthy food she is doing it all.
 In conclusion, I would just like to say that the key to ensuring good dental health for children is to provide early preventive care and teaching good dental habits. Timely sharing of knowledge on common dental ailments, stressing on tooth decay and its causes and measures to prevent them will take us a long way in ensuring good health.
If you are a brand and would like to see your products reviewed, please send an email on lifethrumyeyes11@gmail.com or you can also connect with me by clicking on any of these on  Facebook | Twitter | Instagram.
Picture courtesy- Lifethrumyeyes
For more on parenting stay tuned with us on Lifethrumyeyes here!
Copyright Notice- Unauthorized use and/or duplication of this material without express and written permission from this site's author (owner) is strictly prohibited. Excerpts and links may be used, provided that full and clear credit is given to Rakhi Parsai (Lifethrumyeyes) with appropriate and specific direction to the original content.