There is no other feeling on earth which can be compared to that of birthing a baby. Right from the moment you see those two pink lines to the time you actually deliver a baby. A woman starts dreaming and mentally preparing for the D-day to come. I still remember the day a few months back when I had approached my 8th month and I was almost panicking with things to pack for the hospital. This is, in fact, the most exciting stages of pregnancy, packing essential items in the hospital bag for delivery.
If you go by the traditional people it's advisable to pack bags by the 36th week of pregnancy so that the mum to be is relaxed when the miracle moment is about to come. Since I was a second-time mum this time around it was easy for me to put together a list of essential items to pack in the hospital bag for delivery. However, for mums to be its good to make a list instead of struggling with last minute packing. Here is a carefully put together list of things to include in the hospital bag for delivery.
1)Clothes for mum and the baby- Most of the hospitals have their own maternity gowns for the mums during the stay. So, you need to pack that special dress for the special day when you take your bundle of joy back home. Again, depending upon the hospital policies and things they provide in the hospital for the baby you can decide about the clothing. Nonetheless more the merrier, so pack few sets of onesies, caps, booties, and mittens, wash clothes for the baby, hooded towel for wrapping around. Since a newborn requires special care it's advisable that you carry 2-3 soft blankets of medium size so that it can be wrapped around the baby.
2)Undergarments- Do carry maternity undergarments with enough breathing space so that it doesn't rub against your delicate tummy. Especially if you are to undergo a c-section it's a good idea to carry a high waste undergarment so that it doesn't get piled around the scar.
3)Nursing bra and breast pads- In order to make those initial days at the hospital easier and comfortable do carry a pair or two of nursing bra along with a nursing pad to avoid leaking of milk.
4)Medical records- This is one of the necessary things to be kept in mind while packing the bag and also before leaving for the hospital to carry along your hospital records for the reference of doctors attending you. Especially in case your water burst suddenly and your doctor might take time to arrive these records may come in handy and help in guidance for new doctors.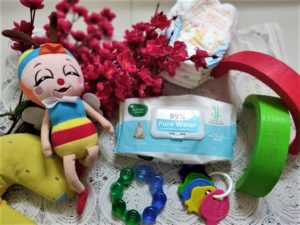 5)Baby Wipes- Well, this is the most important thing to pack in your bag. Keeping the sensitive skin of babies try and carry the best sensitive baby wipes available in the market. Luckily when I had delivered recently, we had packed unscented water wipes by Mothersparsh. Mothersparsh has got these amazing 99% water wipes that are made of thick hospital grade material which doesn't tear easily and also helps in cleaning the baby properly. Since they are biodegradable we were assured of contributing to the safe environment. Baby wipes are an utmost important part of the hospital bag packing since you would need it to clean the delicate skin of the baby on and off. From wiping the bum, cleaning hands, wiping the body to cleaning the stuff around the baby Mothersparsh 99% baby wipes can be used for all the baby needs. Baby wipes can be used in multiple ways. In fact, I had used quite a lot of these unscented baby wipes myself and till date using with my now 5-month-old baby and 6-year-old daughter. You got to ensure that you buy.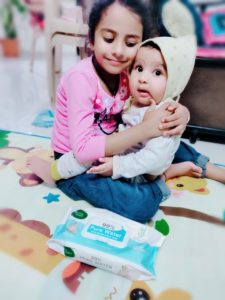 6)Camera- Yes, you need to carry a good camera or you could also use a good quality phone camera to click the first look of your baby.
7)Body lotions and more- You could carry along with you a body lotion or a stretch mark cream that you have been applying on your itchy tummy for a few months now. This will help you also post-delivery to soothe the sensitive skin of your tummy.
Hospitals usually vary in their policies about allowing to bring a few items from home. Post checking with the hospital on things they will provide you can pack your bag keeping the above list in mind. As I said number 5 is extremely important don't forget to stock sensitive baby wipes well as even these can be used by mums to be during the crucial hours of labor to soothe herself.
Picture courtesy- Lifethrumyeyes
For more on parenting stay tuned with us on Lifethrumyeyes here!
Follow us on Facebook | Instagram | Twitter
Copyright Notice- Unauthorized use and/or duplication of this material without express and written permission from this site's author (owner) is strictly prohibited. Excerpts and links may be used, provided that full and clear credit is given to Rakhi Parsai (Lifethrumyeyes) with appropriate and specific direction to the original content.