Pregnancy is both a crucial and an equally exciting time, which needs a lot of preparation. There is so much to be taken into consideration when planning the arrival of your baby. Many parents-to-be feels overwhelmed about various things, from setting up the nursery, learning how to secure a car seat, buying toys and feeding supplies to choosing the right doctor for yourself and a perfect pediatrician for your soon to be arriving baby.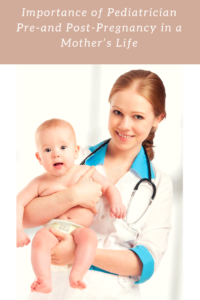 Choosing the right pediatrician is going to be one of the most important decisions you will make for your baby. A pediatrician is dedicated to helping new parents in raising healthy children. There are many options available when you are looking to choose a pediatric provider for your baby. Right after giving birth, the first few weeks and even months are a whirlwind for most mothers, with all the ups and downs. For this reason, it is necessary to find a pediatrician whom you can trust, and with whom you and your child feel comfortable.
During my pregnancy, I had gestational diabetes and as a result, my baby had an increased birth weight. Doctors told me that since I was suffering from gestational diabetes there were chances my baby might have medical issues or she might even suffer from diabetes herself. That was the time when I started regretting not having a doctor for my baby in advance who could keep a track of her health immediately after birth. There are numerous reasons why now I feel that a pediatric doctor plays a huge role during the pregnancy and equally important role post-pregnancy as well.  Here are few reasons why a pediatrician is important during and post pregnancy too:
Importance of Pediatrician during pregnancy
During my recent visit to a pediatrician for my daughter, I happened to ask the doctor regarding the right time to choose the specialist for the baby. As per his opinion, it's better to choose between 28- 34 weeks of the pregnancy. Few reasons for choosing a pediatrician at this time are-
 Few key reasons:
1) Choosing a pediatrician in advance will ensure that the doctor is aware of possible complications or healthcare issues in your pregnancy and in the baby. This helps him/her in dealing with the little one well after birth and giving the right treatment.
2) It is important that the specialist is near your house and has easy connectivity to his clinic. Emergencies come without any warning and hence it's better to have a doctor closer to you.
3) As a parent, it's imperative that the doctor matches up with your belief in baby care and can treat accordingly. This is only possible when the doctor is selected in advance after enough number of sessions.
4) Having finalized a doctor before the birth can help you be prepared for your newborn's care and also know the do's and don'ts well in advance.
Parents often consult friends and family when starting the search for a pediatrician, but the final selection involves more than just a helpful suggestion. It is imperative that parents take several factors into consideration while choosing a pediatrician.
Importance of a Pediatrician post pregnancy
There is nothing more exciting and potentially overwhelming than your newborn's first doctor visit. By the time you deliver and hold your baby in your arms for the first time, it is important that you have already chosen a doctor for the little one. Pediatricians are more crucial for you post-pregnancy since they will be monitoring the overall health of your child, including behavior, physical changes, developmental milestones and overall health of the child.
There are so many things to discuss and ask your pediatrician. The pediatrician, a doctor who specializes in the care of children, becomes an important part of your healthcare team
1) In the first two years of your child's life, s/he will get most of his/her vaccinations and hence, you need a doctor who is well-equipped to give all the necessary doses and ensure good health of your child.
2) You need to have a doctor in place with whom you can comfortably discuss all the issues related to the baby, family and your pregnancy.
3) Availability during a crisis situation- First few years of the child's life are usually unpredictable and might require medical intervention anytime. Hence, once the baby is born availability of the doctor matters the most.
Also, read- One stop destination for moms to be 
The need of a good pediatrician is crucial as your child needs medical attention and intervention during the first 5 years of their life. From basic check-up, measuring the babies' growth stats, and vaccinating them, you need them for all of it.
I recently came to know about a top children's multispecialty hospital in New Delhi, Madhukar Rainbow Children's Hospital, which offers its expertise throughout pregnancy and after birth as well. It is one of the oldest hospitals in India for women and child care. Under the strong leadership of Dr. Ramesh Kancharla, Madhukar Rainbow Children's Hospital aims to provide high standards of care for mother, fetus, newborn and children.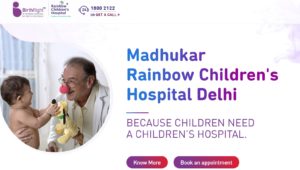 They have a strong motto "Because Children Need a Children's Hospital". Isn't it so true? Well, as soon as these cute little babies enter the world, they need special care and assistance to adapt to the outside environment. Considering the criticalities associated with pregnancies these, infants/newborns are at a great risk of diseases and serious medical conditions. This is when having a specialty hospital for babies and children plays an important role. Madhukar Rainbow Children's Hospital is a one-stop destination for all of your baby's needs. They are a well-equipped hospital that is backed by strong statistics of successful deliveries, care for preterm babies, state-of-the-art facilities complemented with a team of top-notch doctors and much more. In 18 years, Rainbow Hospitals has evolved as India's leading group of children's hospitals and is extending it's world-class pediatric and perinatal healthcare services to the National Capital Region.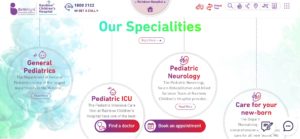 Madhukar Rainbow Children's Hospital has all the pediatric super specialties, including pediatric gastroenterology, pediatric surgery, pediatric neurology, pediatric neurosurgery, pediatric hemato-oncology, pediatric cardiology, amongst others. They have left no stone unturned to ensure that the children are completely taken care of. They also have a rehabilitation program that intends to take care of allied patient care services like pediatric physiotherapy, psychometric analysis and behavioral counseling among others.

There is the immense importance of pediatricians and one can completely feel safe under the roof of Madhukar Rainbow Children's Hospital under the guidance of top pediatric experts in varied fields. After successfully functioning in the South-Indian cities, I am sure that with the foray of this state of the art hospital in the capital city of India, moms in New Delhi will feel safer.  For more details, click here.
For more on motherhood, follow along with Rakhi on Facebook | Instagram | Twitter
Love Deeply. Give Freely. Laugh Often
Reach out to us on lifethrumyeyes11@gmail.com for collaborations and discussions. We are all ears!
Copyright Notice: Unauthorized use and/or duplication of this material without express and written permission from this site's author (owner) is strictly prohibited. Excerpts and links may be used, provided that full and clear credit is given to Rakhi Parsai (Lifethrumyeyes) with appropriate and specific direction to the original content.