A newborn is a specimen of unquestionable beauty to Mom and Dad. Recently when I had delivered my second child a few months back, I was certain I have got the most beautiful baby and is destined to be part of the list called Most beautiful people. Well, I am sure all parents feel the same. He was all pink and soft with a head full of thick hair. That was one moment I can't ever forget. Lying on the hospital bed watching my baby from distance had me weave so many dreams. The most immediate one was of taking him home along with me and beginning a beautiful life of our own. Motherhood instinct had kicked in & I wanted to regain my strength soon and start caring for him and protecting him from everything bad. Giving him the best care possible was my only aim.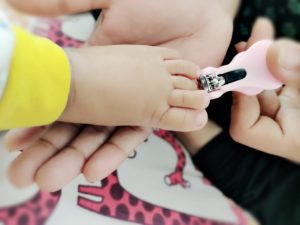 Well, since I was a second-time mum, I was aware of all the basics related to newborn care. One of the most important aspects of newborn care that I followed religiously was maintaining nail hygiene for my kids. Today I am going to share the importance of grooming your babies and how nail care is one of the most important things to take care of. Also, read about my experience with one of the amazing grooming kits that I got gifted by U-grow for my son. When I was young, I never liked my nails getting trimmed. I was always scared that my mum was going to cut them too short or that it might hurt me. Well, nail trimming and care can actually be a source of stress for parents too. Its highly important to care for your child's nails as nails themselves are necessary for sensitive fingertips, picking up objects and relieving an itch as well.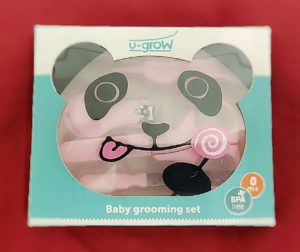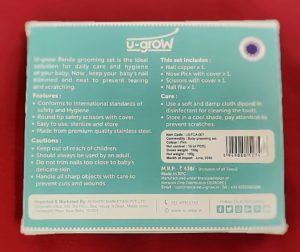 Let's understand the need for nail care in babies and toddlers
I still remember the first time my firstborn had scratched herself with her nails I felt like I had failed as a mom. I didn't realize how quickly they would grow and hurt babies. The prospect of trimming your baby's nails can be extremely scary. Those fingers are teeny tiny and the nails are even smaller. If you're a mum like me, you might be paralyzed with fear of hurting them with the clippers you have around the house.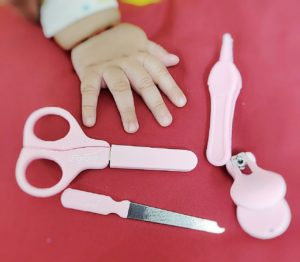 In fact, nail care is an essential part of overall hygiene for everyone. In case of babies and toddlers its all the more important as they can scratch themselves, especially very young infants who haven't mastered the art of controlling their movements and hands. Nails on fingers and toe tend to collect a lot of dirt and fungus throughout the day and need to be cleaned thoroughly regularly. This dirt that gets trapped inside the nails can lead to nail infections and they can also serve as breeding ground for various diseases. Young babies and toddlers have the tendency to put a finger in the mouth and dirty nails lead to causing stomach infections as well. Thus, it's better to maintain hygiene properly.
As I said recently, we have gifted a beautifully packed grooming kit for our newborn son and trust me I couldn't be more thankful for the same as it has got everything that a new parent would need for maintaining healthy nail hygiene.
This nail care grooming kit includes:
1)    Nail Clipper
2)    Nose pick with cover
3)    Scissors with cover
4)    Nail file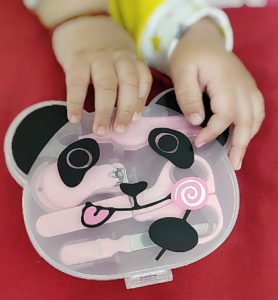 Packaging
All these tools come in a beautifully packed in a panda-shaped box. The box is too cute and made keeping the kids in mind.  This kit has tools that include scissors, baby nail clippers, nail file, and baby nose pick. It can be used for infants or toddlers. It also comes with a handy box for storing the tools in the kit. One of the main advantages of this box is its small size, making it easily portable. I loved that fact that the sharp tools have a cover on top to avoid any accidental cuts.
Key features
 All the tools in this nail care kit are made with International standards of safety and hygiene. They are made from premium quality of stainless steel.
Pricing
 INR 438
Where to buy
 Amazon, Flipkart, FirstCry and Paymall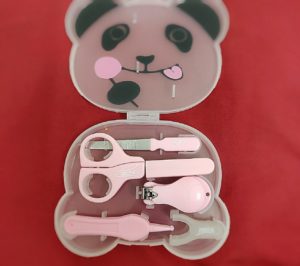 Overall experience
 Trimming your baby's nails can be quite a scary experience especially if you are a new mother. Anything that could potentially cause harm to your little one is daunting and no easy task. Babies' nails are very fine and can't be cut too close to the skin. Most of the times in spite of us being careful we end up cutting the nails to close to the skin of nails as babies are usually pretty squirmy. Thus, it's recommended that nails be filed down with this gentle nail file or clipped slightly with the scissors available in the kit. You can round out the edges of the nails using a file to remove sharp points and avoid the baby scratching himself.  The nail file can really be a way to go in such situations. We simply loved how handy this kit is and useful for maintaining the hygiene of my kid's nails.
This nail care kit has tools that include scissors, baby nail clippers, nail file, and baby nose pick. It can be used for infants or toddlers. It also comes with a handy box for storing the tools in the kit. One of the main advantages of this box is its small size, making it easily portable.
Babies nails grow faster than you would have ever thought of and you need to cut them at least twice a week to trim them back on the risk of your baby scratching itself. Cutting baby nails can be more critical than it seems. These tiny nails are fragile and prone to scratches and wound. As a parent, you must take proper care while clipping your baby nails using such grooming kit. There are quite a lot of tips and tricks on how to trim baby nails. Below I've included some of them for your ease and use.
Always prefer to do this trimming after a bath as nails are soft and it's easy to cut them.
If you are scared to cut the nails alone better take the assistance of someone else at home. Ask someone to hold the hands and another person can do the task of trimming.
During the initial 3-4 weeks of your baby's life don't use nail cutter/clipper better would be to file the nails softly and slowly as the skin is still attached to the nails.
After a month or so you can use nail clippers that are designed to follow the natural curve of fingernail
Since the babies are extremely soft gently push the skin pad of the finger or toe away from the nail and then trim it.
In case you still feel jittery about trimming the nails of your child then you can wait until the baby is asleep and still. Trust me we do this and it's much more peaceful to cut nails with a sound sleeper.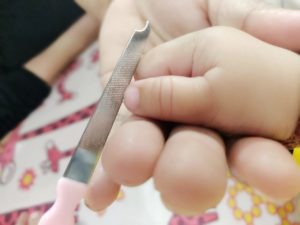 Hope you liked the post and our review of this beautiful and essential grooming kit for babies. Nail care is an essential part of grooming. Not only do they look tidier, trimmed fingernails and toenails are also safer for babies and toddlers. Do check out more baby care products on U-grow website here.
If you are a brand and would like to see your products reviewed, please send an email on lifethrumyeyes11@gmail.com or you can also connect with me by clicking on any of these on  Facebook | Twitter | Instagram.
Picture courtesy- Lifethrumyeyes
For more on parenting stay tuned with us on Lifethrumyeyes here!
Copyright Notice- Unauthorized use and/or duplication of this material without express and written permission from this site's author (owner) is strictly prohibited. Excerpts and links may be used, provided that full and clear credit is given to Rakhi Parsai (Lifethrumyeyes) with appropriate and specific direction to the original content.