Gone are the days when battle used, to begin with, gender equality. The times have changed and the battle today revolves around a working mum and a stay-at-home mum. Well, this one topic is of constant dispute. Who's a better parent, who earns more, who gets to have a better time with kids, and have a healthy sex life? More or less every women's middle name is guilt. If you are working you are guilty of not giving enough time to your kids and if you are stay-at-home you are guilty as you don't have a career which will make you feel good as an individual. There is a constant fight between women and judging each other and themselves- exacerbating that guilt.What about you? Do you feel judged by other mothers for your choices? Do you judge those mums who work outside the home or who are home with their children (which, as every stay-at-home parent knows is a huge work!).
Well, this started with a recent conversation which I was party to. Sheetal a working mum was deep in conversation with Mamta, a stay-at-home mum on raising kids and how she is trying to ensure that her work does not come in between and that she proves to be a good mother. Mamta envious of the fact that Sheetal has a well-paying job, freedom, independence, power of money is flaunting the fact that she is able to give all her time to her kids, ensure that they are loved, well fed and completely taken care of. Does this conversation seem similar to you? Have you ever come across any such discussion with a fellow mum? I am sure you would have at some point in time or at least mentally you would have gone through this many times.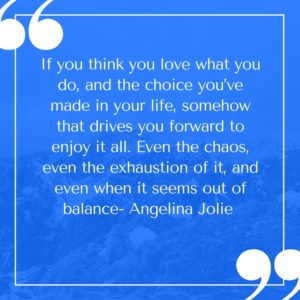 The tension between mums who work and those who stay home is still smouldering. This rivalry between working and stay at home mum is not inborn. Society has levied a set of impossible standards to meet as mothers, and these standards are difficult to reconcile with our concept of what a woman should be in the current century. I am sure all of us in some way or other feel this pressure to be some kind of perfect mother in our society.
Motherhood, for all its well-documented joys, is no less then a constant struggle between if I am doing the right things or not. It's more like a flash point for resentment, envy and guilt of not being able to do the right things at the right time. So I believe it's a human nature that everybody envies what the other has. The working mum wishes she had more time to spend with her child; the stay-at-home mum would want to be recognised as an individual who is capable, creative person who knows more than just babies poop, pee, food and other baby/kids stuff.
Even I am a working mum and often feel like I am being judged all the time by myself, by other mums, by society as to if I am a good enough mother. This judgment always felt like I am depriving my daughter of valuable mommy time. On the other hand, I feel these stay-at-home mums have a concern about the kind of role model they're offering their children. There are many complicated feelings attached to this high-stakes issue, there's plenty of room for self-righteousness and resentment. In a candid moment you could find any women or a mother and talk to her, she will often be seen talking emotionally about the path they have chosen and a decision made. However, I am at peace with my mind because my daughter is doing wonderfully in daycare, she's my reflection of how it's working out. And that gives me inner satisfaction.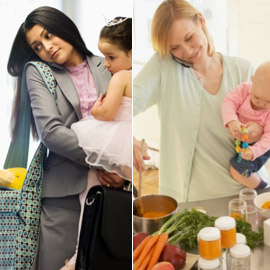 I am sure there are many mums who would love to be home with their kids but can't afford to be, just as there are many mums who would love to work but can't find good employment or situations are not in their favour. Don't let society shape the person you are. Don't feel bad about being a working mum or a stay at home mum. There will always be people judging the choices you make. Well, we see celebrities dealing with this on a daily basis. There are tonnes of people judging them on each choice that they make. Imagine how these celebs feel about themselves when they google on self. They are being judged for everything that they do or say. Are we less than them? We are the celebrity of our family and are bounded to be judged. But don't let this pull your spirits down at all at any given point.
Just as some women want to be doctors, engineer or architect, while others want to be artists, what kind of mum you want to be is an individual decision with no bad answer. The only wrong choice is to go against what you feel in your gut.Everybody deep down in the heart wonders about the choices that are made. Remember each choice that you make has two sides, a positive and a negative. Don't let the consequence pull you down when the time comes since it was your choice and the only available option that you had at that particular moment.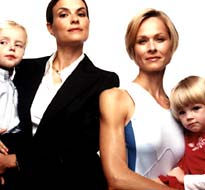 As far as I am concerned, I still try and understand my own mixed feelings. Like a relationship status on Facebook, this whole thing is complicated. Working women need to work because they need income or some women have to stay-at-home as child care is too expensive or there is a lack of good opportunities around. Being a working mum myself I would still say that the demands of childcare can be stressful on stay-at-home mums, it's harder than any other job. I personally can not think of any profession that has 24/7 shifts, no coffee or lunch breaks, and no vacation or sick days. To all the working and stay-at-home mums I would say you need to change the way you speak and think about yourself and start appreciating your own worth and hard work as a mum.
Bottom line would be whether you're working outside (or in) your house or are staying home to care for your kids, if you feel good with your choice overall, that attitude benefits your children as well. Moms is the strength of every house and if she is a happier person, then she is going to have a more fulfilling and therefore healthier relationship with her family and kids especially. And if you do work, whether by choice or necessity, know that the quality of the time that you spend with your children matters much more than the quantity. Whatever time both the parents have available, making it count by being engaged and present with their children (both physically and mentally) can make all of the difference.
Happy Parenting ! Happy Mommying !