Breastfeeding is one of the most important and beautiful phases of women's life that changes her in profound ways. It not only brings the great joy of fulfilling your child's need but also confers upon the great responsibility of ensuring that your baby gets right nutrition as well. It is one of the skills that you learn while on the job. It may seem as natural as taking every breath but it requires practice and patience. You need to learn about holding your baby right, supporting the little one for that perfect latch and so on. It requires perfect position as well as coordination. Every mother needs to know the right breastfeeding techniques to get a healthy and happy start with the baby.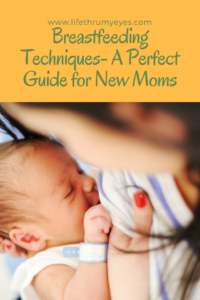 Most of the new mothers find themselves in a tricky situation soon after the delivery as they are unable to help the child with the perfect latch and position. As you begin a beautiful journey of breastfeeding with your child we share with you few tips /breastfeeding techniques to get you started and get comfortable.
Breastfeeding Techniques for new moms
Feed in the first hour – To begin this beautiful journey try to feed your baby in the first hour of the birth. This helps in letting the uterus contract and give the magic potion needed the most by your baby i.e. colostrum.
Get the right latch – The best way to learn about breastfeeding is letting your child teach you. Make sure you are comfortable and well supported with a pillow. In case your newborn latches on your nipples but not the areola you could face problems such as sore nipples or poor milk supply. Hence, it's important that you let your baby on the bare chest facing you. Touch nipple on your little one's lips. As soon as the baby opens the mouth wide open get him to latch on to you quickly. And gravity will help keep the baby get in a perfect position and latch well.
Also, read- Breastfeeding- An experience revolutionized with breast pumps
Experiment different positions – It's an art you need to learn together with your baby. Try different positions to figure out the best suitable for you and your child. You could try few positions like cradle hold, Cross-cradle hold, football hold and side lying position.
Cradle Hold – This is one of the most comfortable positions for both mother and baby. Cradle your baby in your arm with the babies' tummy against yours and head resting on your elbow bend. Gently push the nipple into your baby's mouth and let him do the work.
Cross-cradle hold – The is also quite a common position that is also known as a crossover hold. This is a great position to give support to your baby and the mother can also be comfortable with complete control in her hand. You need to cradle your baby in your arm with his tummy against yours and your hand at the base of his head and neck. Here you will use opposite arm from the cradle hold position.
Football hold – One of the ideal position for mothers with heavy breast or who had C-section. In fact, it's ideal for preemie babies as well. Place your baby in such a way that his entire body is beneath your arm and your hand at the base of the head and neck. Lift your breast a little with the support of your palm and let your baby latch-on by pulling him in close. Hold your baby's head with his chin and nose touching your breast.
Side lying position – Once you and your baby get comfortable side-lying position is one of the most comfortable ones. It also helps in giving rest to the new mom and recommended for the ones who have undergone C-section.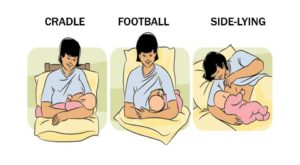 Getting an expert help – In case you feel that the baby is unable to latch or is not taking enough feed don't delay in consulting a lactation consultant. Let the expert have a look at the way your baby latches. It would be great if you could do this while you are in the hospital after delivery.
Breastfeeding accessories and more – You can introduce feeding bottles and pacifiers once breastfeeding is properly established and you have developed a bond with your child. There are many options available at U-grow to buy top class feeding related products.
Also, read- Why breastfeeding is important in the first hour after birth
Feeding solutions – In case you are finding it difficult to feed the baby you could express milk using a manual or electric breast pump. It's also a wonderful solution for moms who are working and are unable to breastfeed the baby timely. You could check out amazing breast pumps available at U-grow for ensuring your baby gets the benefit of mother's milk always.
Breastfeeding is one journey that is worth taking. It's an experience of lifetime and connection that stays with you forever. Hope you have a wonderful experience and build beautiful memories with these breastfeeding techniques and tips. Do share with us what how was your breastfeeding journey and tips if any.
Picture courtesy- World wide web. Pictures are taken from the web.
PS- This post was originally written for U-grow by Rakhi Parsai (www.lifethrumyeyes.com)
For more on parenting stay tuned with us on Lifethrumyeyes!
Follow us on Facebook | Instagram | Twitter
Copyright Notice- Unauthorized use and/or duplication of this material without express and written permission from this site's author (owner) is strictly prohibited. Excerpts and links may be used, provided that full and clear credit is given to Rakhi Parsai (Lifethrumyeyes) with appropriate and specific direction to the original content.
Love Deeply. Give Freely. Laugh Often