The word breastfeeding –  motherhood's second beautiful introduction (first being the child), brings to life those sweetest memories of a mother's life. While giving birth to a child is undoubtedly a woman's most beautiful experience, the journey of doting mothers begins in almost no time. The moments where things good or bad are redefined and matter from the newborn's standpoint. So many changes alongside the trauma and complications – big or small – of a just-turned mom. But the tougher sides of motherhood subside no sooner the child is handed over to the mother to be fed for the first time. And begins a journey to remember and cherish for a lifetime.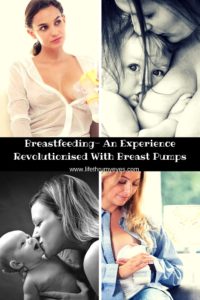 Breastfeeding is way above the scientific pluses of breast milk. It helps in mothers to bond with the child. More than a responsibility it's an emotion that lives with women till the end. While breastfeeding has lots of benefits, there are few mommies who face initial challenges, which are not too easy to tackle for few. But thanks to ever developing science, help comes handy to make this experience happily successful, and of course memorable.
Here we have listed down few challenges faced by mums in the initial days after the birth.
Sore nipples- This is one of the most common problems faced by the mothers. Cracked, painful, and bleeding nipples are all signs that something is wrong with the way your baby is latching or the position in which you are feeding.
Mastitis- Mastitis is a form of breast infection that requires immediate medical attention. In case it is not addressed on time it may result in a breast abscess. Most common symptoms of mastitis include a shiny, hot, red and painful area on one breast, chills, nausea, fever or fatigue. It mostly is caused due to engorgement, blocked milk ducts and damaged/cracked skin in the nipple area.
Also, read- Why breastfeeding is most important in the first hour after birth
Latching problem- At times due to the size of nipples (Inverted or flat) babies are unable to latch properly and feed well that leads to trouble in breastfeeding.
Engorgement- This is when your breasts become hard and painful because they are too full of milk. During the initial weeks of breastfeeding most mums experience engorgement. It can happen anytime when you do not feed the baby or not pump it for an extended time. In case mums feel heavy on the chest they need to pump or hand express as soon as possible to get relief from heaviness and pain. At times engorgement leads to clogged ducts and decreased milk supply too. To prevent breast engorgement, allow your baby to breastfeed as often and as long as he/she desires.
Working professionals- Most of the companies have maximum 6 months maternity policy hence most of the mothers stop breastfeeding or wean altogether. This is one of the toughest decisions mums have to take while going back to work.
When I had delivered my first child the maternity leaves were hardly 3 months and I had to join work in no time. By the time I could understand my child better and bond with her further I had to begin weaning her off and parallelly switching her to formula milk. Since I was a mother with increased milk production I couldn't stay without feeding and empty myself. We found all our solutions in a breast pump by one of the brands available in India. I was so happy to be able to feed breast milk to my daughter after expressing it twice daily before going to work. Well, this was 5 years back and things have changed quite a lot. From the awareness, information new mums have to variety of products available in the market. They have a host of information easily available.
Also, read- An affair with Breastfeeding-my experience my journey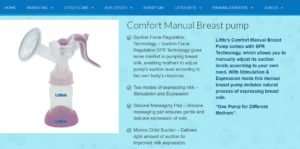 Well, until I had used a breast pump myself I wasn't sure of its efficiency but they are indeed lifesavers for few mums. Recently I came across one of the manual breast pump by Piramal Healthcare while attending a very informative webinar by a renowned gynecologist. It is named as Little's Comfort Manual Breast Pump, they are made up of Suction Force Regulation Technology which gives comfort to mother while pumping breast milk. This innovative technology also allows a mother to adjust the pump's suction level according to her own body's response. What I liked the most about this breast pump is the fact that it has two modes of expressing breast milk. One being stimulation and other expression and it imitates the natural process of expressing breast milk. Along with these amazing features it has yet another feature which is quite interesting, it mimics child suction and delivers the right amount of suction for improved milk expression. It's one of the easy to use manual breast pump which is BPA free, has soft and comfortable silicone breast shield for natural suction, and it also provides single hand operation.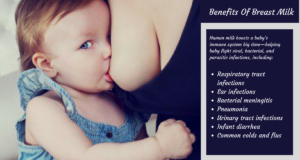 Breastfeeding plays a crucial role in forming the deep bond between mother and baby. It is designed by nature to ensure maternal-infant interaction and closeness. Breastfeeding has amazing benefits and helps mums regain the pre-pregnancy size and lose weight very quickly. However, at times it can be challenging for few mums and that is when Breast Pump aid mothers who face complications in breastfeeding their baby. The breast pump can revolutionize the way mothers look at breastfeeding. From various health issues to resuming work. All these problems can be easily taken care of by the use of a renowned breast pump. Here are few tips to choose the right breast pump and its benefits as well.
Tips to choose the breast pump
Breast pumping is an art which needs to be mastered while on the go. It takes a lot of patience and time to build a perfect relation with the breast pump. Here are few tips to help you make the experience worth and satisfying.
Choosing the correct breast shield size. It needs to cover your breast and surround your nipple in such a way that it helps in natural suction and the walls of the silicon shield do not hurt the breast.
If you are going to resume work full time and be away from your child for long hours you can opt for an electric breast pump for faster expression of milk.
In case you are a stay at home mom and requires to leave your child every now and then with a relative, you can go for a manual breast pump. Before resuming work, I had used a manual breast pump and it worked amazingly well for me.
Buy a breast pump that is BPA a free
Pick up the pump that helps in natural stimulation and expression of milk.
Benefits of expressing milk via a breast pump
Breast milk is known for the numerous benefits it provides and hence ensuring that your baby gets it in whatever way possible is the key to healthy growth and development of your child.
It helps mothers to express and store milk for certain hours at room temperature and in the freezer as well for extended hours.
Helps mother's whose babies are unable to latch well and still get the benefits of this golden liquid via expressing.
Timely and regular milk pumping will prevent mothers from facing the issues of engorgement and heaviness in the breast.
Gives ample amount of rest to new mothers as she can express and store the milk for the next feed in advance and still be able to rest.
Breastfeeding can be painful with sore and cracked nipples. This is the time when expressing milk can help and give relief to the mothers.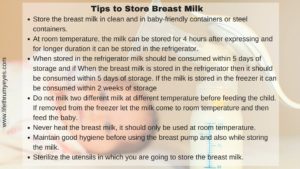 This golden liquid of love and nutrition is perfect for your baby and that is why experts and lactation consultants usually encourage all the mothers to naturally breastfeed their babies considering the importance of ingredients it contains for the growth and development of your baby.
Motherhood is beautiful but giving birth and raising a baby takes requires a lot of commitment and dedication. Today, mothers are trying to find the right balance between all the aspects of their life. They are expected to be superwomen and to try to do it all and have it all in life. However, moms can't be superheroes and they do require support and resources from friends and family. This is the time when breast pumps can be of a great support for the moms trying to find the perfect balance while dealing with the new bond formed with the baby.
Have you used a breast pump with your child? How was your journey with it and how did it help you with bonding with your child all the more? Do share your experience and breastfeeding journey with us in the comment section below.
 For more on parenting stay tuned with us on Lifethrumyeyes!
Follow us on Facebook | Instagram | Twitter
Copyright Notice- Unauthorized use and/or duplication of this material without express and written permission from this site's author (owner) is strictly prohibited. Excerpts and links may be used, provided that full and clear credit is given to Rakhi Parsai (Lifethrumyeyes) with appropriate and specific direction to the original content.
Love Deeply. Give Freely. Laugh Often