World Of Augmented Reality And Infotainment: I have always believed that toys are not merely playthings. They have a lasting impact on your child and they always leave a learning behind. It works as the building block for your child and his future. When my daughter was born I wanted to give her everything under this universe. But, I was a cautious parent and gave things which could also lead to her overall development. Well, this doesn't mean that I don't let her have anything that she wants. But, yes we try to introduce things which she might also like and will play more happily while learning something amazing.
Recently I came across this brand named Playshifu. It was a new concept so took a while for me to understand this but once I did I saw amazing opportunities that it offers. For a pre-schooler that my daughter is I instantly knew that she would love this and it will open a pandora box of knowledge and information for her. Being a parenting blogger I continuously look for the brand which can make an impact on other parents life and benefit kids too. So with the support from Playshifu team here I am today reviewing two of their amazing boxes. Shifu Travel & Shifu Jobs.
WHAT IS PLAYSHIFU?
Before we begin with the actual review let me take your guys through what exactly is the concept behind Playshifu. They are a brand that makes augmented reality based games for kids between 2 to 10 yrs of age. All the products by them are focused on learning and development in the early stage. And what better way than introducing some play and entertainment while learning. They offer a screen time which we modern-day parents wouldn't mind actually. Read for yourself and trust me you would agree if you are a parent who is reading this posts.
WHAT IS AUGMENTED REALITY?
Augmented reality is a technology where real life is enhanced by computer generated sights and sound. Mostly this has been used for mobile apps for interactive games, experiential education and consumer interaction in a fun way. Basically, it allows board games, sandboxes, articles and roller coaster come to life in a big way. Kids get to interact with their favourite cartoons and characters. It also provides a futuristic creative outlet, where they can dress dolls and make their own greeting cards.
On an educational level, augmented reality for kids can make reading come alive in a completely immersive way and also teach them about things they might encounter in their everyday life, such as where food comes from, what various professions are, how does animal live in the jungle and much more.
HOW DOES THIS WORK?
Well, it's one of the mosts simple yet very innovative game that I have come across. It's an app based product which works on both Android and iOS. So here's what we get in this amazingly packed sturdy box.

60 space theme based flash cards. We have got travel and jobs Shifu Boxes


Device stand to keep the mobile phone or tablets.


Travel pouch. This is very convenient when you are travelling.


Instructions and activation code to start with the game


Age group mentioned on top of the box: 5-10


It works with both IOS and Android mobile and tablet devices.
HOW DO WE GET STARTED?

App Installation: Install the Shifu app and scan the QR code or manually enter the code in the app to get you started. Use these links for Travel & Jobs boxes.


Point the Device on camera: Point the devices' camera on the card that the app will recognise and it will generate a 3D animation over whatever is on your camera's screen.


Touch the screen: Touch the screen to make the professional and vehicles move in 360 degrees.


Tap to spell and play: Tap to spell the name of the item which is displayed on the screen.Play fun game involving various professions and vehicles.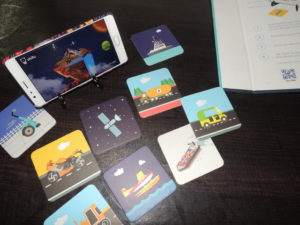 The effects make the computer generated card appear like it's really there. From being a gardener to being a carpenter and doctor it has got everything that your child aspires to be in his or her life. Likewise, the travel box is just amazing and the timing couldn't be just perfect when my daughter is being taught about people and modes of transport in her school. Travel box came in very handy for us in teaching our daughter various modes of travel and transport during this time. As soon as the app displays the 3D images there is a voice over which mentions the name of the picture. This is a great way of teaching kids about various vehicles and professions. The best part if the background of the 3D image is similar to our real life. Gardner is seen in a garden and a boat moving around in the water.
Our Take On Shifu Travel
Are you a parent who loves to travel? If yes I am sure you would have experienced various modes of travel. Are you looking to also teach your child about different means of travel? Shifu Travel Box is an answer for all. Travel box gets your children to experience various types of the vehicle running on land, air and water. From army tanks to Navy jets it teaches them all. It has got 60 cards with a wide variety of travel options. In fact, I was amazed to see so many vehicles which may be even I was not much aware of. As an icing on the top, the cards teaches about the purpose, mode, sound and action of each vehicle. This was a true learning experience for me and my daughter.
Our Take On Shifu Jobs
This is one of the best ways of introducing and connecting your child to the professional world. Kids get to know about various professions right from a traffic police to civil police, from an architect to an engineer, from a nurse to a doctor and much more. Everything that kids see in their day to day lives comes in for of digital reality in front of them which helps in connecting in the better way. They not just learn about various jobs and profession but also gets to know different workplaces of these professionals and tools used to do that. It's really impressive and helps in building your child's aspirations for future.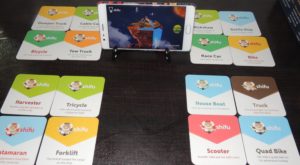 8 THINGS THAT WE LOVED ABOUT PLAYSHIFU

360 Degree View: You can rotate the object 360 degrees and can zoom in zoom out.Also, the voice over gives you the main facts.


Learns Spelling: Each card has got a defined activity as well wherein you learn the spelling, solve a puzzle or get the real-time experience of the object in question. An ambulance picks up sick people from the house and drops them to the hospital. For every step that needs to be taken there comes an automatic inbuilt prompt which makes it easy for kids to action.


Language Development: We all use flashcards at home to help our child learn new things. Flash card with Playshifu is an amazing way of increasing vocabulary and helps in language development. Since it requires child active involvement in the entire process it becomes interesting and engaging for them as well.


Strengthens Memory & Improves Attention Span: Since there are so many cards and so much of information floating around its really good for memorising various facts. Since everything needs to be done on the app the child needs to focus on the screen which helps in improving the attention span of a child.


Improves Imagination: Kids at such young age have amazing imagination power and just needs a little push to learn little more. Playshifu is the perfect example of taking your child's imagination to places.


Travel-Friendly: With the pouch available in the box you can travel along with the cards anywhere and since it's on the app all that you would require is the device stand and cards.


Requires No Internet: You travelling in the no network zone and worried about how to engage your little one? Well, here is the answer. Playshifu just requires one-time app installation and then can be played anywhere anytime without any in-app purchases. Isn't it amazing!


Device stand: This may sound like the mosts natural thing to be done by any brand. But trust me it's a boon as it keeps the device in fixed position and allows the user to seamlessly enjoy playing without having to hold the device.
This amazing augmented reality game has got 2 different variants to enhance the learning experience further. My two cents on these variants.
Shifu Safari: Does your child is in love with animals? Yes? Then this is the best box for your child. Entire animal kingdom becomes a reality with Shifu Safari Box. It teaches them a lot about different animals, from their eating habits to habitat, sound, action and various movements. It is an interesting way of learning more about the entire animal kingdom. Check more about the safari box here. 
Shifu Space: In my childhood, I used to wonder about the solar system and what happens up there in the space. Never in my imagination, I would have thought of solar system the way it is described by Shifu Space Box. It opens up a Pandora box which teaches about planets, solar system, sun, moon, stars and much more. These 60 cards help in exploring celestial bodies, phenomena, space missions and renowned personalities, right on the table or in your child's hands. I personally feel it might even inspire kids to take up aeronautics in future. Well too optimistic of me to think at the age of 5-10 they might think of a career. However, there is no harm right in giving them direction? Check out the space box here.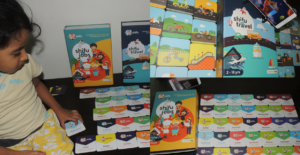 Overall Take:
A cautious mum that I am instead of filling my daughter's room with toys touching the ceiling, in all these 4 years of her life we gave her all sorts of toys, primarily toys which will stay with her in long run. Having said that I was also more involved in what she plays with because I wanted to ensure that her screen time is reduced and that time is utilised in her natural growth by doing everything that such young kid should do. I didn't want her to be glued to television, mobile phones or video games. I chose wisely and I am really proud that I could make a difference in her life so far and now with Playshifu I am just gonna add to positive learning for her life.
It's a very innovative and great way of making kids learn about new things. On top of that, this is a very good way of letting your child have guided screen time which is much better than watching cartoons on television and playing video games. It's amazing how digital world gets connected to the real world. On an educational level, augmented reality for kids can make reading come alive in a completely immersive way and also teach them about things they might encounter in their everyday life, such as where food comes from. The quality of the material used to make the cards is really great and study. The edges are rounded to avoid children getting hurt which are again a well-rounded approach to the brand. The box is beautifully packed with all the requisite information put up nicely on the box. Its very thoughtful of the brand to include a device stand in the box for seamless enjoyment.
Suggestions:
Themes: Themes are limited, it would be great if there can be more themes to choose from
Age: Grasping power of a 2 yr old can be different from that of a 10 yr old hence it would be great if the product can be segregated for a 2 yr old child and a 10 yr old. It would be great if these boxes can be categorised in Toddlers, Preschoolers and Pre-Teens
Lifethrumyeyes Ratings:
Price:4.5/5
Packaging:5/5
Child Saftey:5/5
Idea:4.5/5
Follow Playshifu on Website & Facebook
Available in India Here
So what are you waiting for go ahead and grab a box for your little one today from Amazon, Playshifu Website or FirstCry.
Also read this mom's opinion on Playshifu here here