Even with a slight change in weather, viral cough and cold are common ailments that kids suffer from. Due to developing an immune system, kids are more susceptible to infection. Having a child who got detected with Bronchial Asthma at an early age of 6 months we had to start the inhalers and puffs way early. A runny nose and sore throat were a constant companion of my little girl.However, I did not want to depend on medicines forever hence the moment she turned one I started my experiments with home remedies. Nature has it's own way of curing diseases and believe me these tried and tested home remedies have helped us a lot and my daughter who always had a cough and cold now get affected only with a major change in weather. She has better immunity today and is relatively healthy and active child. Touch-wood things have improved tremendously ever since she turned 2.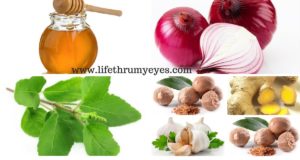 There is a natural home remedy for almost every ailment. The best part about these home remedy is that they have no known side effects and are absolutely inexpensive. Thus, not only are they safe for health, but also turn out to be an economical option. To deal with the upcoming winter and onslaught of cold and cough, home remedy treatment makes use of things bestowed on us by nature like fruits, vegetables, and herbs.
There are many home remedies for a cough and cold for babies and toddlers out of which I have listed the tried and tested ones in this article. These can be used by adults too and have no side effects. Do not administer anything to an infant because they are too small and these home based remedies may not be suitable for them. Howsoever safe and time tested these remedies are, it's always better to check with the doctor before using it on your child
Onion: Most of us start to cry the minute we begin chopping up an onion. Well, this pungent and tear causing thing is a blessing in disguise for the human race. Many mothers who have tried onion juice for their heavily congested babies will tell you that this indeed works.

Before you go to bed, cut an onion into quarters and let it sit on a plate near your bedside. Raw onion has the capacity to absorb the germs in the air, preventing them from entering the body.
Cut a piece of onion large enough to place directly on the sole of each foot and cover with a sock before bed and remove in the morning. Do this every night if you are experiencing flu-like symptoms.
This is again one of the remedies which never fails. Place a medium sized onion on the burner and let it get burnt. Once it starts turning black and looks like it's cooked enough add a pinch of ajwain (carom seeds) on it and after a minute remove it from the burner and place it on a muslin cloth. Cover the cloth to make a potli and with a small stone or anything hard beat the onion to break it enough to let the juice of onion come out. Rub this potli on your child's chest, feet, palm, forehead, throat and back. Press the potli harder so that the onion juice gets applied all over the body. This is a sure shot formula and try this before going to bed at night. Cover your child completely after you do this and let the magic happen
You can make a natural cough syrup. Mix onion juice with equal amount of honey. This is an effective remedy for a cough
Onion can, not just clear a congestion, but also will fight the cold and heal a fever in an infant. Simply grind an onion and dilute it before giving your baby a few teaspoons of it.

Garlic: Something which gives you bad breath and intolerable burps can actually prove to be a very effective cure for your child's cough and cold.

Take 2-3 garlic pods, peel them and boil in water. Once they become soft you can remove the garlic and eat it. This will give relief from coughing. This can be done for kids above 3 years since younger kids won't be receptive to the pungent taste of garlic.
I personally swear by this method as it has never disappointed me. Take 7 garlic pods and peel it. Take a needle and a thread. Make a garland of these 7 garlic pods and tie it around your child's neck. Keep the thread big enough so that it stays between throat and chest. Due to its heating tendency garlic helps in releasing chest congestion and give big relief. You can try this for 2-3 days at night time and let your child sleep with this around his neck.

Eucalyptus oil: Inhaling eucalyptus oil helps in the cold. It opens up the blocked nose and gives much-needed relief. For young kids, you can put few drops of oil on clothes and bedding as well. For older kids, you may add few drops of oil in hot water and take steam.
Ginger: Ginger has the tendency to thin out the mucus. Mix 1 tsp of Honey with ½ tsp of grated ginger. Give this mixture to the child to get rid of a sore throat. This can be used for older kids due to the burning taste of ginger young kids won't be able to tolerate it. You could also include ginger in a day today cooking during winter so that it becomes day today part of what your family eats.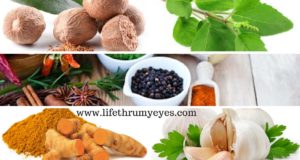 Saunth (Dried Ginger): Take saunth(Dry ginger) and misri (Palm Sugar) into equal quantity. If you have saunth powder then only grind misri into a fine powder. Take a spoonful of saunth and misri mixture add a little honey to make a smooth paste. Have this paste 2-3 times a day. *you can keep both the powder separate and use it as per the need.
Nutmeg: Rub nutmeg on a grinding stone and add few drops of ghee to it. Apply this paste on your child's forehead to relieve cold symptoms.
Tulsi/Basil leaves: Holy Tulsi leave has strong medicinal properties and is used in a lot of Ayurveda medicines to a variety of tea packs available in the market.

Take 4-5 tulsi leaves in ½ a litre of water and boil it for 3-4 minutes. Let the water sit for a while till it has cooled down. Replace this water with normal water consumed by your child. This will not only relieve cold symptoms but also increase baby's immunity

Honey: Honey is the best medicine that nature (honeybees) has to offer us. Known for its soothing effect, let your child relish the sweetness 2-3 times a day in the medium sized spoon. If your child is older than five years, mix a spoonful of cinnamon powder and ask him/her to have it.
Ajwain (Carom Seeds): Ajwain or carom seeds have naturally warming property and have been used in many home remedies to relieve cold and cough in kids and adults too.

You can use it to make a massage oil by heating ajwain seeds in mustard oil, let it cool down, filter and store it. It helps in relieving symptoms of cold and cough.
Take 1 cup water and bring it to a boil. In this add on 1 tsp turmeric powder and 1 tsp carom seeds (ajwain). Boil till half. Add 1 tsp of honey and drink it twice a day.

Mustard Oil: An age old home remedy for a cough and cold in kids. There is no side effect for it and can be used on babies and older kids as well. While this is known for its goodness, as per the season of the year the quantity of the oil can be reduced or increased. Especially in summers use little oil or better use coconut oil for massage since mustard oil is warm to hot in nature.

Heat mustard oil and add 8-10 cut garlic pieces. Heat the oil till garlic turns black. Filter the oil and keep it aside to cool down slightly. It's more effective if the oil is little warm for massage.

Camphor: You can give camphor mixed with coconut oil massage to your baby. Heat coconut oil and add little-powdered camphor to it. After the oil has cooled a little take few drops on your palm and gently massage on your child's chest. Use little camphor only as it might irritate your child's skin.
Turmeric: Turmeric is known to be a natural antiseptic. Its antiseptic properties work on viral infection and help to relieve chest congestion and counter cold & cough.

Heat milk and add quarter spoon turmeric powder to it and give it to your child during bedtime for more effectiveness. It can also be given during breakfast time.
Turmeric balls: Add turmeric to jaggery and make small balls. Give these small balls to your kids to eat.
Raw turmeric kept in the mouth also helps in relieving cold and cough.

Ghee: For a dry cough, heat 2 tablespoons of ghee and add 2 to 3 pepper in it, grind it and give a little of it throughout the day. This can be given for children above 1 year.
Be careful with each of the above methods. Use it at your discretion and also as per the age of your child. Consult doctor in case of babies. Hope these home remedies help you.  Do share if you have any remedy which is not mentioned here and can be useful for kids. I would love to include your suggestion in the blog posts with a due credit to you.
Take care !