Are you a women reading this posts? I am guessing that you are. So what do you do when you have to attend to your nature's call? Do you squat, sit or just avoid and control the urge. And if it all you attend to your needs I am sure you would have felt like fainting due to the unhygienic washroom and fear of urine infection at the back of your mind. Does this thought ever cross your mind "I wish I could stand and pee"? Well, well this always comes to my mind as I can't imagine myself sitting in such a place. Loos in India is a nightmare for women as they are unclean and the chances of contracting infectious diseases are high.
Most of us are pretty paranoid about contracting infections and diseases of public places one time or the other, right? You'll agree that toilets are the crown monarch of the public, and a Urinary Tract Infection(urine infection) the king of pain-in-the-ass.Trusts me even if you are gonna squat and pee there are strong chances that you catch UTI from these unhygienic public toilets. 
READ-Ways To Prevent & Treat Your Family This Monsoon
Realising the troubles that we women go through a Delhi based company launched this revolutionary product "Pee-Buddy" to ensure that peeing in public toilets won't be a colossal issue for women and keep them away from deadly urine infections. It's a very innovative product that allows women to pee while they are standing to avoid dirty toilets when travelling for work/Leisure. Well here is my experience with this revolutionary product exclusively for women.
Key Features: The best thing is that it allows you to pee while you are standing.
Material: The PeeBuddy is yellow-green in colour with white lettering, and it is made from paper. They are folded flat, making them easy to carry with you. To use, press on the sides to pop this item open to form a funnel.
How to use: You don't even need to drop your panties to use this. Per the instructions, just move your panties aside, put the PeeBuddy in place under the "flow area" and pee. Then throw away this one-time use item.
Price: Pack of 10 funnels is costed at INR 200
Overall take: I found this product to be quite liberating since you don't have to worry about facing an unsanitary restroom. Seems quite beneficial for pregnant and elderly women who may find it difficult to bend and pee. However, I didn't find it to be very comfortable personally as these public toilets are not more than a match box which doesn't give enough space to manoeuvre and adjust yourself to pee. I am sure with little more space to adjust yourself can help in easy peeing experience.
Ratings: 3/5
Where can you buy: Amazon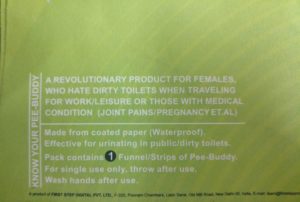 Also Read: 12 Home Remedies To Cure Cold & Cough
5 Home Remedies To Treat Urinary Track Infection (Urine Infection)
Get your fill of water: One of the first things to do when you have a urinary tract infection is to drink plenty of water. That's because drinking water can help flush away the bacteria that are causing urine infection
Load up on Vitamin C for a healthy urinary tract: Getting plenty of foods high in vitamin C is important because large amounts of vitamin C make urine more acidic. This inhibits the growth of bacteria in your urinary tract and helps to cure the infection. At least it does help in controlling.
Sooth UTI pain with heat:  Inflammation and irritation from UTIs cause burning, pressure, and pain around your pubic area. Applying a heating pad can help soothe the area.
Cut bladder irritants from your diet: When you have a UTI, caffeine, alcohol, spicy food, nicotine, carbonated drinks, and artificial sweeteners can irritate your bladder
Empty your bladder again and again: Every time you feel like emptying your bladder please do so don't control the urge.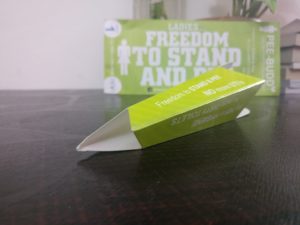 Also Read similar review by a mom here