Motherhood and pregnancy are one of the best experiences of life. It's a priceless feeling that only mothers will understand and best describe. Since the day we come to know of this precious life growing inside our womb we want to protect them and keep them safe from anything and everything. From day one we begin looking out for that perfect place where we can deliver our baby and begin the journey of making beautiful memories.
Delivery is often associated with tremendous pain and agony. Some mothers have beautiful experience that is painless and some have horrifying stories to share that can bring goosebumps to anyone. In such situation mums usually, resort to their doctors and best of maternity care available in their city that will keep the baby and mother safe and healthy throughout the pregnancy and bring this new life safely in this world.
Choosing the maternity hospitals is one of the most crucial decisions you will make because it will ensure the well-being of your baby throughout your pregnancy until you finally go into labor. Most of the people either begin with choosing the right obstetrician and then decide upon the maternity hospital they recommend to you or first choose a hospital. Recently we had to decide upon the doctor for my sister once she got to know that she is pregnant. Our parameters were quite clear as we were looking for a doctor who conducts delivery in one of the best hospitals in Pune and that happened to be Cloudnine. We got lucky with the doctor and the hospital both. A little about what Cloudnine is and why we chose them.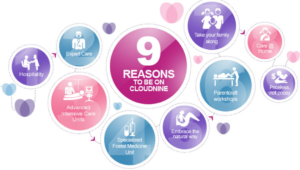 Also, Read- Things you should know about labor pains-A complete guide
With the vision of providing high-quality healthcare, an Internationally acclaimed Neonatologist Dr. Kishore Kumar founded Cloudnine hospitals in the year 2007. Cloudnine is a facility dedicated to providing exclusive and comprehensive services in maternal and child care in India.  From one single hospital in South Bangalore, they have expanded to other locations in Bangalore and now a multicity-chain in Chennai, Gurgaon, Mumbai, and Pune with more than 12 units and with the ambition to set up 10 more of the mother and child units in the coming years.
Recently Cloundnine has added yet another feather in its cap with the launch of the hospital in Chandigarh, capital of Punjab. The Cloudnine hospital in Chandigarh was inaugurated on 22nd November by none other than a celebrity mum herself, Shilpa Shetty in the presence of Dr. Kishore Kumar, Chairman Cloudnine Hospitals.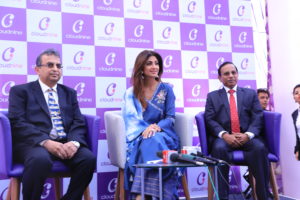 During the launch of Cloudnine Hospital in Chandigarh, Dr. Pawan Kumar, Regional Director of the North, Cloudnine Hospitals addressed the audience with a welcome note and also unveiled "It's Our Baby programme". The crowd was later addressed by Mr. M. Ramachandra, Co-founder & Director Cloudnine Hospitals. After the inauguration gorgeous mother, Shilpa Shetty also shared her pregnancy and motherhood experience.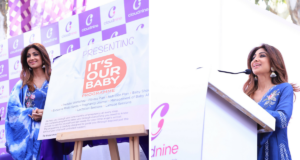 Also, Read- Why am I bleeding during pregnancy- Your trimester wise guide
Cloudnine is a state of art hospital with services that extend beyond maternity like pregnancy, Infertility, Gynecological, Neonatal, Paediatric, New Born Intensive and High-Risk Pregnancy care. Cloudnine offers first-rate services for expectant mothers and their babies.


While motherhood is known to be a happy and wonderful phase, both for the pregnant woman and her family, choosing the right hospital for delivery can be stressful. The mother endures the tension for nine months in anticipation of the joy that lies ahead after the delivery. Thus, it's one of the most critical decision parents to be and their family needs to make. Cloudnine chains of the hospital with its world-class facilities and treatment assure you complete care of the mother and the baby before and after the delivery. Cloudnine Chandigarh has amazing inaugural offers available for you to choose from. We wish you a happy and healthy pregnancy!!

Stay tuned for tips on choosing the right maternity care.
For more on motherhood, follow along with Rakhi on Facebook | Instagram | Twitter
Love Deeply. Give Freely. Laugh Often