Remember the time when painting and colouring was such a common thing for kids. Putting the creativity to best of use was seen in every household. Gone are the days when frolicking under trees, painting to your heart's content and playing hide-and-seek were the ultimate childhood dreams. Today, thanks to technology life have become quite simple for all in the family however they have forgotten to bond over small pleasures of life. Well, I have a wonderful experience about such small pleasure of life to share with all and how it helped my family bond all the more.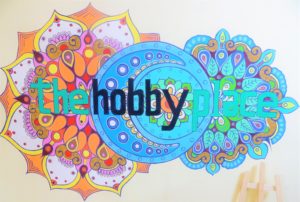 Recently we got this wonderful opportunity to visit a thoughtfully created and beautifully decked up creative studio, The Hobby Place in Bengaluru. Away from the hustle and bustle of the city traffic, The Hobby Place is set up in a calm and serene environment that help everyone unwind and connect with the roots while trying their hands on many creative activities. With the host of creative outlets provided in this art studio, one can experience and appreciate art & culture throughout the year. Adults & kids can walk-in anytime any day of the week, paint a canvas, learn a new art form like theatre/ art & crafts or try their hands on the calming Pottery Wheel.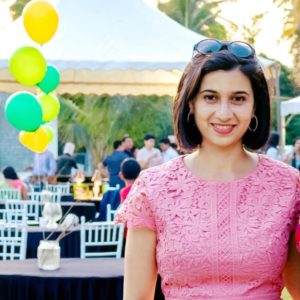 Savita Shenoy, a Software Engineer by qualification started her entrepreneurial journey with The Hobby Place back in the year 2013 with a lovely set up in Mysore. And now, with over 6 years of love they have received, it has become one of the most popular creative spaces for adults and children to experience and appreciate arts and culture through unique events, regular classes and workshops from artists from all over the country, all year round. With a strong successful base of 6 years, they have recently ventured out with 1st franchise of The Hobby Place in Bengaluru.
Since Ira loves to color, our first stop at The Hobby Place was colouring station which had a myriad of colours and brushes meticulously kept on the table for us to just let our creativity find new dimensions. Being an art lover myself I couldn't stop my hands from trying my hands on the canvas and we were later joined by my husband who loved doing something like this with us. I truly feel there is a magic in the air at The Hobby Place and irrespective of age we all find something of our interests over here. Together we made a beautiful painting spread on two canvas board. Something my daughter had started with her sweet little hands was meticulously finished by her papa till the end. We were all very proud of our first creation together as a family. And indeed, it helped us bond in more than one way.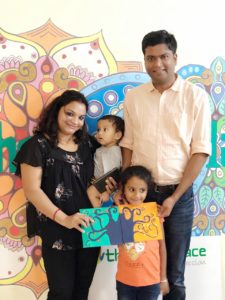 While we were busy with making our beautiful family memories with some dedicated painting time, there was a wonderful umbrella painting class going on which was themed around the ongoing monsoons. We could see so many young faces deeply engrossed in giving the blank umbrella a unique identity of its own. From making some lovely scenery on it, making flowers, to dabbing different colours in an abstract manner, they had it all. All the material required for such workshops are provided end to end by The Hobby Place and you just need to put your heart and soul into making something so beautiful. I couldn't resist and make this video of kids who were so happy with every stroke of the brush and every swish of the color on the umbrella. Indeed, little kids are masters of the moment—they love the way it feels when they smear paint on paper, how it looks when they sprinkle glitter, and even the soft sound a brush makes as it crosses the canvas.
To connect us better to our roots and nature they have a room dedicated for pottery with modern pottery wheels. Just like a potter moulds the mass of soil in different shapes even we parents mould our kids from birth till they themselves become parents. In order to let my daughter experience this, the process of moulding and creating something unique by our own hands we went on to try pottery. Every time I used to see people using the wheel and creating something, I used to feel an itch in my own hands to try something and give some unique shape to my creation. My desire found its wings and my daughter and I both made clay bowls with the expert's help. It was one of the most relaxing things for me. With every movement of the wheel and the wet sand taking shape I felt as if my mind was in the air and it felt so light. It was indeed therapeutic for me. I am sure going to take my husband again for this exclusive pottery session that we as partners could try and relive the beauty of creating life and giving shape to it.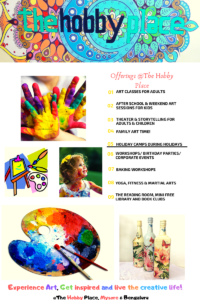 This lovely place is an ideal ecosystem not just for kids but for adults as well. You can explore art corners that bring out the budding artist in you, pottery zone that helps you unleash the power of clay and how beautifully it can be moulded with sheer focus and dedication. With a huge set up on the ground floor of the building, it has ample space to accommodate a good number of people at one point in time. For the theatre lovers and storytelling sessions, there is a separate and dedicated space on the first floor of the building which is also rented out for birthday parties and other activities as well. Next time you are looking to throw a memorable birthday party for your child The Hobby Place is your go-to destination.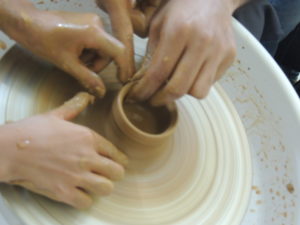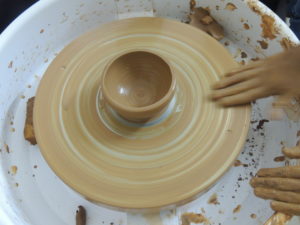 I loved this place all the more because it draws children from phone and tablet screens, to let their imaginations run wild and free. With such vast activities such as colouring, pottery & ceramics, Terracotta Jewellery making, block printing, canvas making, mosaic art and much more, The Hobby Place brings children and us adults back to the basics. The calm and serene environment at this set up in Namma Bengaluru adds to the learning and helps in connecting with the art better.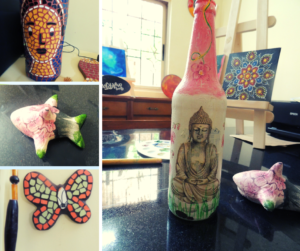 For me, creativity is the freest form of self-expression. There is nothing more satisfying and fulfilling for children than to be able to express themselves openly and without being judged. The ability to be creative, to create something from personal feelings and experiences, can reflect and nurture children's emotional health. Hence, The Hobby Place is a perfect start for your child to get emotionally nurtured.
For more details about this lovely art, studio. Follow them on Instagram, Facebook & website.
For more on lifestyle stay tuned with us on Lifethrumyeyes here! If you are a brand and would like to see your products reviewed, please send an email on lifethrumyeyes11@gmail.com or you can also connect with me by clicking on any of these on Facebook | Twitter | Instagram.
Copyright Notice- Unauthorized use and/or duplication of this material without express and written permission from this site's author (owner) is strictly prohibited. Excerpts and links may be used, provided that full and clear credit is given to Rakhi Parsai (Lifethrumyeyes) with appropriate and specific direction to the original content
Stay happy stay healthy.
Cheers,
Rakhi